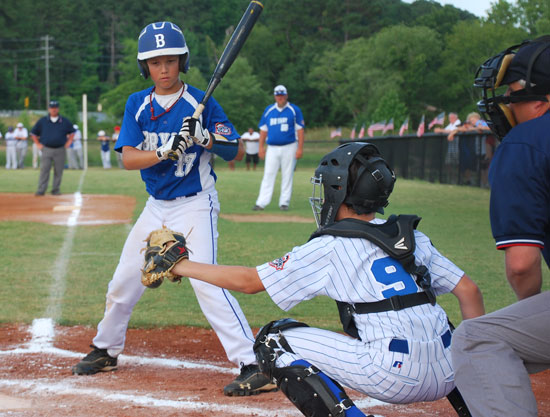 By Madison McEntire
The Bryant All-Stars pounded Little Rock pitchers for nine hits and benefited from five[more] walks and two errors as they cruised to a 14-1 win in the winner's bracket finals of the 2013 12-year-old 50/70 Cal Ripken State Tournament at Bishop Park in Bryant on Sunday, July 7.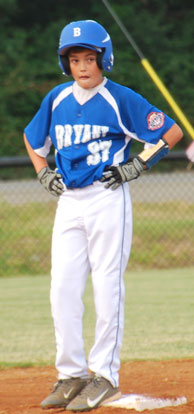 Team members are Logan Chambers, Logan Grant, Logan Catton, Jacob Coppock, Cade Dupree, Hunter Mullings, Jacob Shepard, Ryan Lessenberry, Will McEntire, Coby Greiner, Zach Wells, and Sawyer Holt. They are managed by Michael Catton with help from assistant coaches Phillip Dupree, Mark Coppock and Madison McEntire.
Grant took the hill for Bryant and needed just seven pitches to get three outs. After getting the leadoff hitter on a ground ball to shortstop, he allowed a double on a deep fly that went over Coppock's head in center field.
The second out of the inning was recorded on a grounder to Dupree at first who flipped to Grant covering the bag while the runner moved to third. Greiner then snagged a hard smash near the third base bag and made the long throw to end the inning and keep Little Rock off the scoreboard.
Bryant struck for three quick runs in the bottom of the first. Chambers grounded out to second on a full-count pitch and then Dupree walked on a 3-2 delivery. After Dupree scooted to second on a poor pickoff throw, Grant tripled deep over the left fielder's head to make it 1-0.
Coppock stepped in and lashed the first pitch he saw to left-center to bring in Grant. Coppock stole third before Mullings popped to short for the second out. On a 2-2 pitch, Catton waited back on a curveball and flipped it just over the second baseman's head for a hit to score Coppock.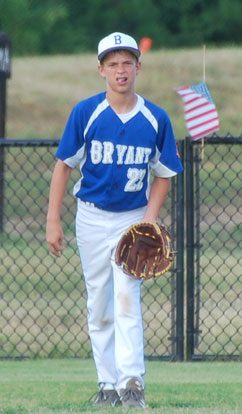 Little Rock went quietly in the second as Grant got a swinging strikeout on a 3-2 pitch, a grounder back to the mound and a pop into right field that Shepard snagged just off the top of his shoes to end the inning.
Bryant doubled the lead in the bottom of the second. Shepard led off with an infield single to the first baseman in the hole. Lessenberry dropped down a sac bunt to the third baseman and Shepard raced all the way to third, beating the shortstop and the return throw to the bag. Chambers ripped a triple to left to bring in Shepard and then scored on Dupree's single on a 3-2 pitch.
Little Rock changed pitchers, bringing in a lefty to face Grant, who popped up to the third baseman near the foul line. The Little Rock pitcher attempted a pick off at first but Dupree was stealing on first movement by the pitcher and beat the first baseman's throw. He scored when Coppock singled to left and advanced all the way to third on a fielding error by the right fielder. Mullings ended the inning with a ground ball to third but Bryant now led 6-0.
In the third, Little Rock scored its lone run of the game. Grant struck out the first batter on a full-count pitch before the nine-hole hitter dumped a soft liner into left. After a stolen base, Little Rock's next batter smacked a hard grounder to Chambers at short that he couldn't handle so Little Rock had runners on the corners.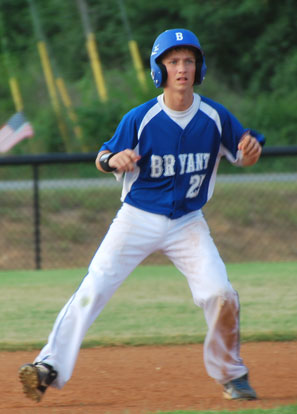 A pop to second for the second out kept the runners in place but then Little Rock's two-hole hitter grounded a hard shot off Catton's glove into right to make it 6-1. With two on, the next batter lined Grant's pitch solidly to center but Coppock broke hard on the ball and made a running catch to end the threat.
Bryant blew the game open in their third at-bat plating eight runs. Catton led off with a four-pitch walk. Greiner dropped down a sac bunt and was safe when the pitcher's throw pulled the first baseman off the bag. Shepard was retired on a sac bunt to the third baseman as Catton and Greiner moved into scoring position. Lessenberry attempted to bunt the runners up but never got a strike and walked on four pitches to load the bases. The next two batters, Chambers and Dupree, also walked to make the score 8-1.
Little Rock changed pitchers again, bringing in another left-hander. Grant greeted him with a line drive single to center to score Lessenberry and keep the bases loaded. Coppock spanked a hard shot that the second baseman couldn't handle and Chambers and Dupree scored with Grant moving to third.
Mullings walked to reload the bases and then, on a 1-2 pitch, Catton lifted a long sac fly to center to score Grant and move Coppock and Mullings up. A wild pitch allowed Coppock to score and Mullings to reach third. A soft liner off Greiner's bat dropped into center to score Mullings with the final run.
Holt hit for Shepard and, after Greiner moved up on a passed ball, he bounced out to second to end the inning. Bryant's lead was 14-1.
McEntire came into pitch in relief of Grant for the fourth, with Grant moving to third, Greiner to second and Holt leaving the game. Little Rock's cleanup hitter bounced a high chopper on his second pitch to Grant at third for the first out and the following batter grounded to Greiner at second for out number two. After falling behind 2-0 to the next batter, McEntire fired three straight strikes and ended the game with a swinging strikeout.
Bryant is next in action on Tuesday, July 9, at Bishop Park in the championship game at 5 p.m. A loss would lead to the "if necessary" game which would follow immediately.