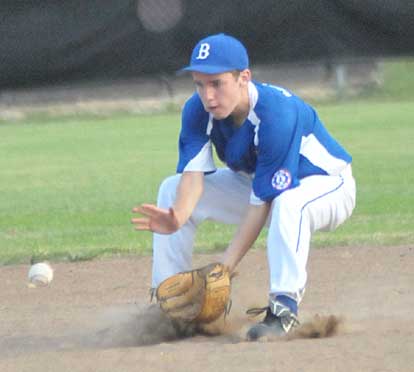 BENTON — The Bryant 13-year-old All-Stars scored two runs in the top of the sixth and four in the seventh to break open a 3-3 game on the way to a 9-4 win over White Hall Sunday in District Tournament play at Bernard Holland Park.
With the victory, Bryant advances to the championship round on Tuesday night with two chances to win one game for the title.
The Babe Ruth State Tournament for 13s begins in El Dorado on July 16.
Members of the Bryant 13s are Dakota Besancon, Caleb Chaffin, Brittan Crouch, Tre Davis, Devin Dupree, Collins Fredriksson, Clifton Hampton, Andrew Kincaid, Hunter Lawhon, Robert Meeks, Hunter Oglesby and Drew Tipton. Jeff Besancon is the manager with assistance from Chris Tipton and Stephen Kincaid.[more]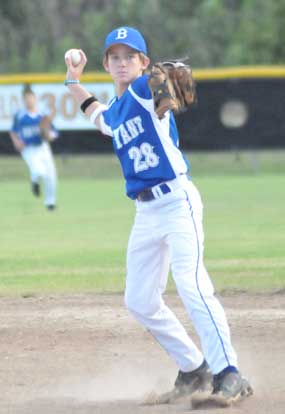 Bryant broke out on top in Sunday's game, taking a 3-0 lead in the first. Tipton and Besancon started the game with singles. With one out, Crouch reached base then Dupree walked and Lawhon cracked an RBI single.
In the second, Hampton singled but was thrown out trying to advance on a fly to left by Tipton. Besancon, Oglesby and Crouch drew walks but were stranded.In the third, Meeks reached on a two-out error, Hampton walked and Tipton singled to no avail.
More frustration followed in the fourth when Oglesby singled and reached third on a two-out hit by Lawhon before White Hall escaped. In the fifth, Chaffin singled and Meeks was hit by a pitch. Hampton bounced into a force then Tipton grounded into a force before Besancon singled to load the bases. But, again, White Hall wriggled off the hook.
In the meantime, Dupree kept White Hall off the board until the third allowing a run in the third. Another scored in the fourth and White Hall tied it in the fifth only to have Dupree strike out the last two batters to leave the bases loaded.
In the top of the sixth, Crouch and Dupree cracked lead-off singles Lawhon walked to fill the bags and, though Crouch was out trying to score, Chaffin came through with a single to drive in two.
Dupree worked around a one-out single in the bottom of the inning and Bryant blew the game open in the seventh. Tipton was hit by a pitch then Besancon drilled a double. Oglesby reached on an error and, an out later, Dupree singled. A two-out hit by Chaffin made it 9-3.
White Hall managed a run in the bottom of the inning but Bryant picked off a runner at first to take the starch out of the rally on the way to closing out the win.