EL DORADO — Using some clutch pitching and hitting from several players, the Bryant All-Stars battled back through the long trail of the losers bracket after an opening loss to finish as the runner-up at the Babe Ruth 13-year-old State Tournament.
The tourney concluded on Wednesday night with the host El Dorado team avoiding a winner-take-all finale by breaking up a close game with a four-run seventh to claim a 7-2 win over Bryant.
Members of the Bryant 13's are Dakota Besancon, Caleb Chaffin, Brittan Crouch, Tre Davis, Devin Dupree, Collins Fredriksson, Clifton Hampton, Andrew Kincaid, Hunter Lawhon, Robert Meeks, Hunter Oglesby and Drew Tipton. Jeff Besancon is the manager with assistance from Chris Tipton and Stephen Kincaid.[more]
White Hall handed Bryant the tourney-opening loss, 7-5. Bryant came back to oust Brinkley, 14-0, on Sunday then Stuttgart 10-3 on Monday. They avenged the loss to White Hall, 5-2, on Tuesday to reach the losers bracket final against Little Rock Junior Deputy later on Tuesday. The Bryant Stars forged a 6-1 win to get their championship shot agains El Dorado.
El Dorado 7, Bryant 2
The first four innings were a scoreless duel between Besancon and El Dorado's Ty Harris. Besancon had El Dorado stopped on four hits while Harris had blanked Bryant on two hits.
In the fifth, El Dorado broke through after a pitching change. Harris started the uprising with a one-out single. He stole second but then appeared to be picked off second by the Dupree, the new Bryant hurler. But he raced to third and got there ahead of the relay throw. Payton Jolly then walked and swiped second before Clayton Waldrum belted a two-run triple to right-center.
A groundout got Waldrum home with the third run.
Harris proceeded to strike out the side in the bottom of the inning to keep Bryant scoreless.
Dupree worked around a two-out error to keep it 3-0 in the top of the sixth and Bryant rallied in the bottom of the inning. Besancon opened the inning with a single. With one out, Dupree lined a single to left.
After a pitching change, the runners moved up on a passed ball as Kincaid drew a walk. Another walk to Lawhon got Bryant on the board and forced a second pitching change. Crouch waited out a walk to force in Dupree and Bryant had the bases loaded with one out, trailing 3-2.
But a foul pop caught by the catcher and a strikeout ended the inning in frustrating fashion for the Bryant Stars.
And, in the top of the seventh, El Dorado pulled away with four runs on a walk, an error and four hits including a single on a squeeze bunt.
Besancon had pitched out of a first-and-third jam in the first then didn't allow more than one base-runner in a subsequent inning.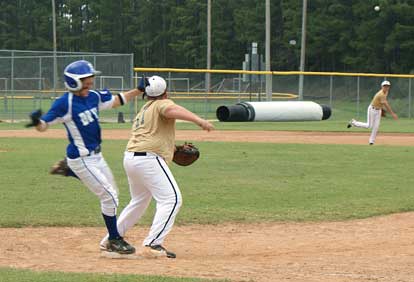 For Bryant, Tipton singled in the first but was picked off. In the second, Kincaid had a base hit and Lawhon sacrificed him to second but he was stranded.
The best shot came in the third when Hampton walked, Tipton reached on an error and Besancon sacrificed them to second and third before Harris ended the threat with a strikeout.
Bryant 6, Little Rock Junior Deputy 1
Oglesby surrendered a run on two hits in the first inning then, with seventh-inning relief from Besancon, shut out the Junior Deputy Stars on four hits the rest of the game.
A four-run third set the Bryant Stars on coarse for the victory.
Little Rock's lone run came on a lead-off single and a two-out triple. Oglesby's second strikeout of the inning ended it there.
He pitched around an error in the second with his teammates turning a doubleplay to finish the frame. Little Rock couldn't get a runner past second after that.
For Bryant, Tipton singled but was stranded at third in the first. In the second, Kincaid singled and Crouch walked but a sacrifice bunt attempt by Lawhon was fielded by the pitcher. A throw to third was in time for a force. Though Crouch and Lawhon eventually advanced to second and third, they too were left on.
In the third, however, Tipton beat out a bunt hit. A balk got him to second and, with one out, Oglesby helped himself with an RBI double to tie the game. Dupree plugged the gap in left-center for a double to put Bryant ahead.
Walks to Kincaid and Crouch loaded the bases. Lawhon hit a grounder to third that resulted in a force to retire Kincaid but Dupree scored to make it 3-1.
Chaffin singled to load the bags again so when Hampton was hit by a pitch, it forced in the fourth run.
It stayed 4-1 until the fifth when Lawhon walked, Chaffin sacrificed him to second and, with two out, Tipton stroked a double to chase him home.
In the seventh, Dupree led off with a base hit and Kincaid sacrificed. Crouch's double set the final score.
Besancon closed it out with a 1-2-3 bottom of the seventh.
Bryant 5, White Hall 2
Dupree shackled White Hall on five hits and Bryant scored twice to in the bottom of the sixth to ensure the victory on Tuesday.
White Hall took an early lead on a two-base error and a double in the first inning. After that, though, Dupree didn't allow another hit until the sixth. At one point, he and the Bryant defense retired 10 batters in a row.
In the meantime, Bryant tied it in the bottom of the first on two-out hits by Oglesby and Dupree.
It stayed 1-1 until the fourth when Lawhon smacked a lead-off single and Hampton drew a walk. Both runners moved up on Tipton's bouncer to short. Lawhon scored when Besancon beat out an infield hit then Hampton came home when Oglesby's grounder to short was booted.
White Hall cut it to 3-2 in the top of the sixth. A single broke Dupree's string of putouts. A walk followed then the lead runner was picked off. But the trail runner was able to advance and when a single followed, he scored. Crouch then gunned down that runner when he tried to steal, ending the inning with the 3-2 lead intact.
Bryant's sixth took off when Besancon singled to right. Oglesby followed with his third hit of the game, a triple down the right-field line to make it 4-2. And when Dupree grounded out to short, Oglesby scored to set the final score.
Dupree retired the first two in the seventh then surrendered a pair of singles. But the game ended with his fifth strikeout.
Bryant 10, Stuttgart 3
Bryant took advantage of 11 walks and four hit batsmen with 10 hits to rout Stuttgart on Monday.
Tipton held Stuttgart to one run on four hits over five innings and Kincaid closed out the win with two innings of relief.
The game was scoreless until the top of the third when an Stuttgart managed its first hit and, two outs later, took advantage of a pair of Bryant errors to put the first run on the board.
But Bryant answered with a four-run outburst in the bottom of the inning to take the lead for good. A walk to Tipton got things started. Besancon and Oglesby followed with hits then Dupree was hit by a pitch. Kincaid walked and, with one out, Lawhon singled to left. Chaffin's groundout got a run home then Hampton was hit by a pitch to load the bases again before Stuttgart got out of the jam.
In the fourth, Besancon and Oglesby each singled and Dupree sacrificed them to second and third. Kincaid walked but was retired on a force at second when Crouch grounded to short. But Besancon scored on the play. Lawhon walked to load the bases then free passes to Chaffin and Hampton forced in runs to make it 7-1.
Tipton worked around a walk and double in the top of the fifth and, in the home half, Bryant went to work again. Besancon was hit by a pitch and, with one out, Dupree and Kincaid drew walks. Crouch singled in a run then a second scored when Lawhon grounded into a force at third that retired Kincaid.
Trailing 9-1, Stuttgart managed a pair of runs in the top of the sixth before Kincaid got the final out on a pop to second.
Bryant got one of those back in the bottom of the inning when Tipton walked and Besancon and Oglesby followed with hits.
Kincaid pitched around an error and walk in the seventh to close out the win.
Bryant 14, Brinkley 0
Oglesby, with fifth-inning relief from Tipton, shut out Brinkley on one hit in the five-inning win. The only safety for Brinkley was a one-out single in the second which led to the only scoring threat. A pair of two-out walks loaded the bases but Oglesby got the final out on a tap to Lawhon at third.
Bryant took a 2-0 lead in the first when Tipton singled, Besancon walked and, with two out, Kincaid cracked a triple.
It stayed 2-0 until the fourth when Bryant added four runs.
A bunt single by Crouch got the uprising started. Lawhon walked then Chaffin and Hampton smacked consecutive singles. With one out, Besancon was hit by a pitch then Oglesby singled to cap things off.
An eight-run fifth made it a run-rule win. Kincaid sparked the inning with a single. Crouch doubled and, after Lawhon walked, Chaffin cracked a double as well. Hampton walked ahead of singles by Tipton and Besancon. Though Besancon was picked off for the first out of the inning, Oglesby followed with a single.
With two away, Kincaid smacked his second hit of the inning. Crouch belted a double then scored on Lawhon's single, making it 14-0.
Tipton retired the side in order in the fifth to close out the win.
White Hall 7, Bryant 5
A three-run fifth snapped a 4-4 tie and provided the difference for White Hall despite a Bryant rally in the sixth and a threat in the seventh.
The game was scoreless until the third when Bryant broke the ice. Oglesby singled with one out, advanced on a passed ball, took third on Dupree's single then scored on another passed ball.
White Hall answered with three runs in the bottom of the inning, however, taking advantage of a hit batsman and an error with a two-out double.
The lead didn't last long though as Bryant matched them in the top of the fourth. Lawhon walked and Crouch singled to start the inning. Hampton sacrificed them to second and third then Tipton got down a bunt on a squeeze play that not only brought Lawhon home but went for a base hit.
A passed ball allowed Crouch to score the tying run and, with two down, Oglesby reached on an error that allowed Tipton to score the go-ahead run.
White Hall tied it in the bottom of the inning with back-to-back doubles.
Bryant tried to keep the seesaw rocking in the top of the fifth when Kincaid walked, was sacrificed to second by Lawhon and Crouch walked but both were stranded.
White Hall took advantage of a couple of hit batsmen and a pair of walks in the fifth with three singles to score three times in the fifth. It might've been more but Bryant picked a runner off second for the second out and, with runners at second and third, Besancon got the final out on a tap to first.
Bryant responded with another uprising in the top of the fifth. Tipton walked then Besancon and Oglesby singled to load the bases. Dupree followed with a bouncer to short and a throw to the plate retired Tipton. Moments later, however, Besancon scored when Kincaid drew an RBI walk to make it 7-5.
White Hall, though, retired the next two batters to force Bryant to leave the bases full.
With one out in the seventh, Hampton walked and Tipton singled to give Bryant another chance but Tipton was forced at second on a grounder by Besancon, who got to first in time to avoid a doubleplay. He stole second to put the potential tying runs in scoring position but White Hall got the final out to secure the victory.