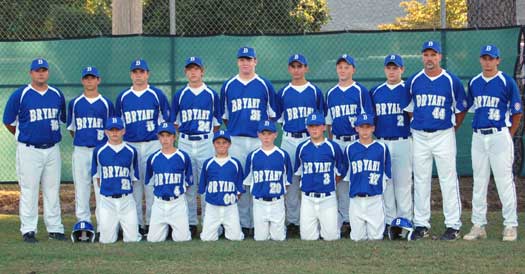 2009 13 Year Old Babe Ruth All-Stars include, front from left, Austin Miller, Trevor Ezell, Korey Thompson, Spencer Kilgore, Joe Murdock, Justin Emmerling; back, Manager Jason Thompson, Chase Tucker Wesley Akers, Jonathan Lyman, Ian Shuttleworth, Ashton Green, Tanner Rich, Zach Graddy, Coaches Mark Akers, and Jimi Easterling.
The Bryant 13-year-old Babe Ruth All-Stars captured the championship of the District Tournament at Ashley Park by sweeping through unbeaten.
The run was completed with a 14-1 romp over the Clark County All-Stars on Tuesday, July 7, in the championship game. Bryant had opened the tourney on Friday, July 3, with a 7-1 win over Hot Spring County. On Saturday, Bryant bounced White Hall, 13-2, in five innings before meeting Clark County in the winners bracket final in a game that started Sunday night but was suspended until Monday by rain. Bryant went on to claim a 7-3 win to advance to the championship round.
Bryant's 13-year-olds, coached by Jason Thompson assisted by Mark Akers and Jimi Easterling, include Wesley Akers, Justin Emmerling, Trevor Ezell, Zach Graddy, Ashton Green, Spencer Kilgore, Jonathan Lyman, Austin Miller, Joe Murdock, Tanner Rich, Ian Shuttleworth, Korey Thompson and Chase Tucker.
The team advances to the State tourney which will be July 17 in Monticello. They'll receive a first-round bye then open play on Saturday, July 18, at 11 a.m., against the winner of Friday's game between McGehee and Hamburg.[more]
Lyman went the distance in the opening win and in the five-inning championship contest. Coach Thompson noted that, with the 2-0 mark, Lyman allowed only two unearned runs and seven hits, while walking just one and striking out eight in his 12 innings.
Bryant 14, Clark County 1
Lyman needed just 55 pitches to dispatch Clark County on three hits.
His teammates gave him some comfort room in the top of the first, scoring four times. Green's one-out single instigated the uprising. Akers walked and, after Rich bounced into a force at third, Graddy drew a free pass to load the bases for Shuttleworth who cleared the bags with a drive to center for a triple. Tucker got Shuttleworth home on a squeeze bunt to make it 4-0.
Clark County got its lone run in the bottom of the inning when Austin White singled, advanced on a groundout by Kris Oliver and scored when Jakahari Howell reached on a two-out error.
While Clark County was unable to score at all after that, Bryant added on in every frame. In the second, Thompson walked and, with one down, so did Green. Akers drove in the run with a sacrifice fly.
In the third, Shuttleworth was hit by a pitch with one down, and Tucker belted a double. As Shuttleworth scored, Lyman's grounder to short was played to third to retire Tucker. But, after Thompson was hit by a pitch, Lyman came around to score to make it 7-1.
Lyman gave up a single and a walk around a strikeout to start the bottom of the inning but the lead runner was thrown out trying to steal third by Graddy, the catcher.
Bryant responded by tacking on five more runs to blow the game up. Green walked and Akers singled to left. Miller's grounder to short was misplayed and Graddy blasted a double. Two outs later, a two-bagger by Lyman made it 11-1. He eventually scored as well on a groundout by Emmerling.
After Lyman retired the side in order in the bottom of the inning, Bryant finished the scoring. Ezell drew a walk and, with one out, Akers and Rich singled to bring him around. Walks to Graddy and Murdock forced in the final run.
Clark County managed a lead-off single in the bottom of the inning but Lyman set down the last three.
Bryant 7, Clark County 3
There was no score when the rain came during the top of the second inning on Sunday. But when play resumed on Monday, Clark County pushed in two runs to take a lead. Green got out of the inning and worked a 1-2-3 third before Bryant got on the board.
In the bottom of the third, a one-out error that allowed Ezell to reach opened the door for Bryant. Green drew a walk before Akers laced a double to left-center to chase them both home.
After walks to Rich and Graddy, Clark County made a pitching change. Shuttleworth grounded into a force at second put picked up the RBI as Akers scored. And when Kilgore walked to load the bases again, Tucker and Thompson each ripped RB singles to give their team a 5-2 lead.
Clark County took advantage of a two-out error in the outfield with a single and a balk to plate a run in the top of the fourth but Bryant got that one back in the bottom of the inning on a walk, a hit batsman, an error and a groundout.
Green allowed just two hits and three baserunners the rest of the way. He wound up allowing just two walks and four hits while striking out five.
Bryant put the finishing touches on the scoring in the bottom of the fifth. Lyman singled and Tucker's bunt was misplayed. Thompson sacrificed and a third straight bunt, this time by Ezell, plated the run as Lyman beat the play at the plate.
In the top of the seventh, Green retired the first two before giving up singles to Oliver and J.F. Matros. When Oliver tried to take third on the Matros' hit, however, he was gunned down by Tucker from center field.
Bryant 13, White Hall 2
Bryant scored in every inning after jumping out to a 5-0 lead in the first. Akers, Murdock and Ezell combined efforts on the mound with Rich, Kilgore and Tucker contributing two hits each.
Ezell reached on an error to start the game. After Green walked, Akers grounded into a force at third. But walks to Rich and Graddy forced in runs and another scored when Shuttleworth grounded out. Singles by Kilgore and Tucker capped the inning off.
In the second, Ezell drew a lead-off walk. After Green drew a free pass, White Hall turned a doubleplay but, when Rich was hit by a pitch, Bryant kicked into gear again. Graddy slapped a single to right then walks followed to Shuttleworth and Kilgore to make it 7-0.Rich singled in a run in the top of the third to make it 8-0.
White Hall got on the board in the bottom of the third, scoring twice with the help of a couple Bryant errors.
Bryant trumped that with four in the fourth. Shuttleworth drew a walk to start the inning then Kolgore beat out a bunt for a single. He was forced at second on Tucker's grounder to short but Murdock got a bunt single down to bring in Shuttleworth. Ezell's bunt single loaded the bases and Green drew a walk to force in a run. Akers followed with a 14-pitch at-bat that concluded with a base hit.Rich followed with an RBI single and Graddy walked to make it 12-2
Murdock relieved for Bryant in the fourth and struggled with his control but he induced a doubleplay ball to get out of the jam.
After Tucker doubled and scored in the top of the fifth, Ezell came on with the bases loaded and no one out in the bottom of the inning to end it with a strikeout, a grounder to Green at third for a force at the plate and a fly to Tucker in center.
Bryant 7, Hot Spring County 1
Lyman went the distance on the mound, finishing with a three-hitter. He struck out four and walked no one.Offensively, Rich had three hits, Ezell, Miller and Tucker two each.
Lyman retired the first 10 batters he faced in the game. His teammates staked him to a 3-0 lead in the bottom of the first.
Ezell and Green singled and, after Akers was hit by a pitch, Graddy beat out a slow roller up the third-base line. Another run scored on groundouts off the bats of Rich and Tucker.
Hot Spring County got its run in the fourth to cut the lead to 3-1. A pair of errors and a pair of singles produced the tally.
But Bryant got it back in the bottom half when Green drew a two-out walk and scored on a single to left by Akers.
Lyman pitched around a two-out single in the fifth and a lead-off single in the seventh on the way to finishing out the win.
Bryant added three insurance runs in the home sixth. Akers reached on a third-strike wild pitch with two down and, after Graddy reached on an error, Rich singled, Tucker hit one that got past the first baseman and Miller rattled a double into the left-field corner.