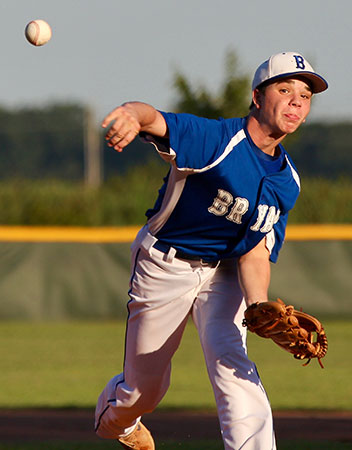 Photos courtesy of Paul Dotson
LONOKE — With a 13-2 drubbing of the Sylvan Hills All-Stars, the Bryant Athletic Association All-Stars advanced to the winners' bracket finals of the South Arkansas Babe Ruth 14-year-oild State Tournament on Sunday.
Noah Davis had two doubles and drove in four runs while Dakota Clay went 3 for 3 to lead the Bryant 14's to the victory. Clay and Kannon Allison combined to limit Sylvan Hills to two runs on eight hits over six innings.
Bryant scored seven runs in the third to break a 1-1 tie then made it a run-rule win with one in the fifth and four in the top of the sixth
The winners' bracket finals are Monday at 4 p.m.
The Bryant 14's, coached by Scott Allison, include Allison, Tyler Bates, Clay, Connor Coleman, Davis, Cole Ferguson, Will Hathcote, Connor Martin, Cameron McDonald, Justin Orender, Alec Purdom, Ryan Riggs, Blaine Sears, Lawson Speer, Brandon Thomisee and Joshua Turner.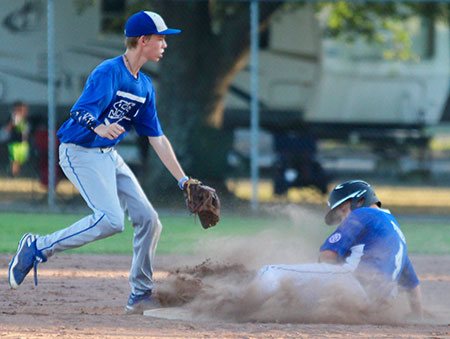 Bryant scored first when, with two down, Clay singled and Hathcote doubled him home. Sylvan Hills tied it in the bottom of the second.
The rout was on with the third-inning explosion. Davis led off with a walk, stole second and reached third on Riggs' tapper to the mound. Clay then singled him in to snap the tie.
A walk to Hathcote was followed by Speer's RBI single. Speer took second on a passed ball then Sears beat out an infield hit that allowed both Hathcote and Speer to score.
With two down, Allison walked to load the bases for Davis, who cleared them with a three-run double to make it 8-1.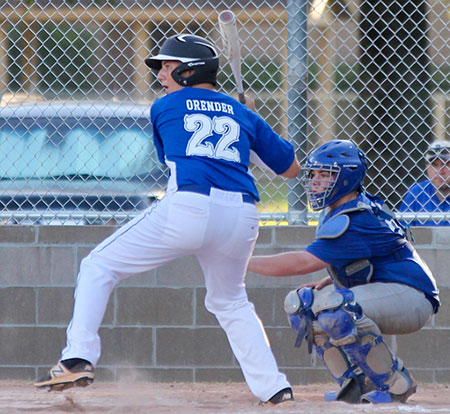 Sylvan Hills managed a run in the bottom of the third but that was the last of their scoring. Clay finished his stint on the mound by working around a one-out single.
In the top of the fifth, Orender got things started with a walk. Allison blooped a single to center then Davis ripped a double to right to make it 9-2. Clay walked to load the bases but Bryant couldn't take advantage.
Allison took over on the mound in the bottom of the fifth and struck out two around a single. Riggs threw that runner out trying to steal.
Turner led off the top of the sixth with a walk. Allison rapped his second hit then Orender was struck by a pitch to load the bases. Bates walked to force in a run and, with one out, an error allowed two runs to score. Bates tagged up at third and scored the 13th run on Riggs' sacrifice fly.
Though he issued a pair of walks in the bottom of the sixth, Allison struck out the side to end the game.