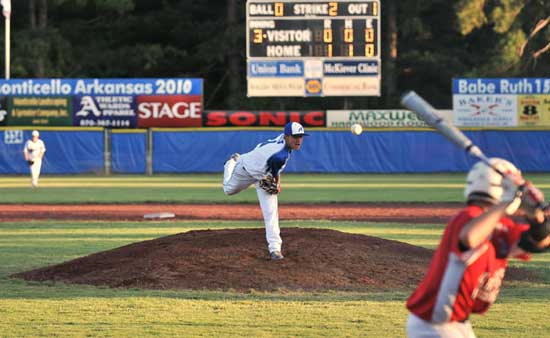 By Rob Patrick
MONTICELLO — Could a slide actually ignite an offensive outburst?
Though it seems unlikely, just such a thing seemed to happen Saturday night at the 15-and-under Babe Ruth World Series at Burlington Field.
Here's how:[more]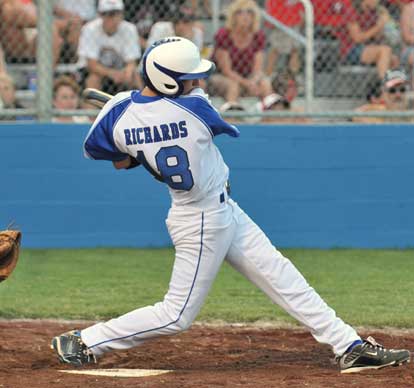 The Bryant All-Stars were tangling with the White Hall All-Stars for the 15th time in the last three years and the game was tied 1-1 going into the bottom of the fourth inning. In a duel between Bryant's Tyler Nelson and White Hall's Chris Smith, Tyler Green opened the inning with just the third hit of the contest, a single up the middle. He stole second and, with one out, Blain Jackson worked a walk. A wild pitch moved the runners up to second and third with Cameron Price at the dish.
Price had already singled Green in with the first Bryant run in the second inning. This time, he worked the count full before squibbing a dribbler up the first-base line. With one out, Green was off toward home on contact. White Hall first baseman Clay Cannon charged the ball and fired a throw to Justin McCarty his catcher.
It looked like it would be the proverbial bang-bang play but Green made a splendid slide toward the back of the plate to get around McCarty, snapping the tie.
Bryant went on to score four more in the inning on the way to a 9-1 victory that improved the team's record to 2-0 in pool play going into Sunday's 11:30 a.m., contest against a 2-0 North Syracuse, N.Y., team.
The Bryant 15's include Zach Cambron, Evan Castleberry, Hayden Daniel, Josh Davis, Evan Ethridge, Cody Gogus, Tyler Green, Riley Hall, Blain Jackson, Tyler Nelson, Cameron Price, Daniel Richards, Tryce Schalchlin, Devon Sears and Marcus Wilson. The team is managed by Jimmy Parker with assistance from Tony Ethridge.
Nelson, who was named the Player of the Game for Bryant, went the distance on the mound, allowing just one unearned run on three hits. He walked two and fanned five. Only one of those White Hall singles got out of the infield.
"That was a big-time performance right there," Parker said of his pitcher. "He hit his spots. He threw everything with a purpose and he got seven innings done without throwing 100 pitches (95). Basically, he did a spectacular job and his defense backed him up well."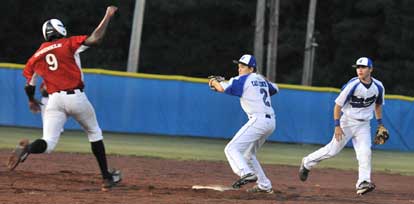 After Green ignited the game-turning home fourth, a visit to the mound by a White Hall coach paused the action. Parker took the opportunity to send Sears in to run for Price. He also called on Richards to hit for Ethridge. Once the conference on the mound was over, Richards ripped the first pitch he saw through the hole into left for a clutch RBI single.
"That was huge having Richards come in and get that pinch-hit," Parker declared. "We started figuring (Smith) out a little bit then, started getting used to his speed. It was a big inning. We had to have it right there."
An out later, Nelson came to the plate. He took the first pitch from Smith, thinking it was high. But the umpire called it a strike. Nelson, obviously displeased, stepped out of the box for a moment then took out his frustration on the very next pitch. His liner plugged the gap in left-center. Sears scored from second and Richards came all the way around from first to make it 5-1. Marcus Wilson lined a single to center to chase in Nelson to cap the inning.
Wilson and Price finished with two hits apiece. Green had two as well but the official scorer ruled his drive to left-center an error when the left-fielder, after a long run, got to the ball but couldn't haul it in to start the fifth.
Green advanced to third on a wild pitch then scored for the third time when Tryce Schalchlin smacked a liner over the leaping White Hall second baseman to make it 7-1.
In the bottom of the sixth, Nelson drew a lead-off walk, took second on a wild pitch and scored on a double over the center fielder's head. Zach Cambron followed with an infield hit then Wilson scored the final run of the game on a wild pitch.
Nelson started the game by retiring the first five batters he faced before surrendering a walk to Tyler Carr. He balked him to second but Jeremy Sprinkle followed with a sinking liner to center that Green sprinted in to catch, ending the inning.
Bryant got on the board in the bottom of the second when Green walked and, on a hit-and-run, got to second on Schalchlin's grounder to short. A wild pitch got him to third as Jackson fanned. Price then worked the count full before slicing a single down the line in right for the RBI.
A 1-2-3 top of the third featured a sparkling play by shortstop Hayden Daniel on a slow roller past the mound off McCarty's bat.
In the fourth, however, White Hall tied it. With one out, Clay Cannon managed his team's first hit, a single to right. Percy Arnold followed with a good bunt up the first-base line. But Nelson hustled over and made a nifty play. First baseman Cody Gogus did a good job catching his throw reaching around the speedy Arnold as he closed in on the bag.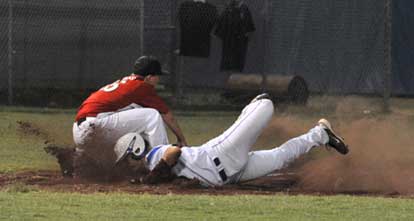 A passed ball, though, allowed Cannon to take third. Smith followed with a soft liner toward second that Ethridge started to try to catch in the air. But it sank on him, hit the ground and hugged it and the Bryant second sacker was unable to come up with it as Cannon scored.
But Nelson fanned Carr to get out of the inning and White Hall was unable to get a runner past second the rest of the way.
Sprinkle walked to start the fifth but a grounder to Daniel at short started a doubleplay with Evan Castleberry standing in and making the relay to first with Sprinkle bearing down on him. In the sixth, Hunter Hale beat out an infield hit with one out but Cannon tapped back to the mound and Nelson started a 1-6-3 to end the inning.
Arnold opened the seventh with a single but Nelson set down the last three to end it.
The game added to White Hall's frustration against Bryant. In those 15 games the two teams have played over the last three years, Bryant now holds a 12-3 including championship victories in District and State play this summer.
The White Hall Stars bounced back by going to the Southwest Regional in Louisiana and won their way into the World Series. But the loss to Bryant, coupled with a tough 6-4 loss to Greenville, N.C., to open the Series on Thursday put them in a must-win situation on Sunday against North Syracuse on Monday and Kelso, Wash., on Tuesday.
"White Hall's well-coached," Parker said. "They've got a great bunch of kids. I know them. They're just like our guys. I mean, it feels like they're our players we know them so well. Great kids, great coaches."Looking ahead, Parker recalled that his team played Syracuse two years ago at the World Series that the Bryant team won as 13-year-olds."I saw them here and they're very talented," he said. "It's going to be a good ballgame."
Bryant, North Syracuse, the Middle Atlantic Regional champion, and Greenville, the Southeast Regional champion, are all 2-0 in American Division pool play going into Sunday. Bryant plays Greenville on Tuesday at 8 p.m.
The top three from each of the two six-team divisions will advance to a single-elimination championship tournament that commences on Wednesday with the title game on Friday.
In other games on Saturday, Hamburg downed Stamford, Conn., 9-3; North Syracuse hammered Kelso, 13-0; Torrance, Calif. edged Waite Park, Minn., 3-2; and Greenville drubbed Pine Bluff Seabrook, 10-1.