Photos courtesy of Paul Dotson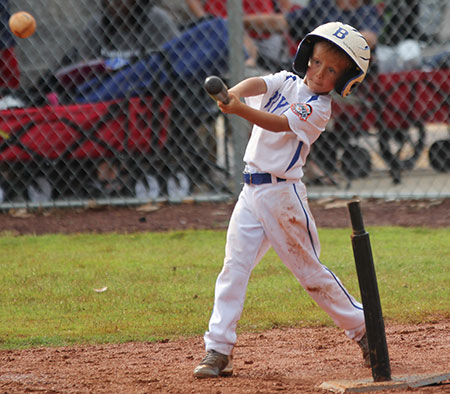 ARKADELPHIA — To open pool play in the 2017 Cal Ripken 6-and-under Southwest Regional T-Ball Tournament on Thursday, the Bryant Athletic Association 5-year-old All-Stars were pitted against the very team that had knocked them out of the State Tournament, the Sylvan Hills 6-year-old team.
And they almost got some revenge.
Trailing 18-15 going into the top of the fifth inning, Bryant scored on a clutch two-out, two-run double by Karson Young who tried to stretch it to a triple only to be thrown out at third to end the game.
Sylvan Hills survived the scare with an 18-17 win. Later in the day, Bryant was scheduled to play the Stuttgart All-Stars.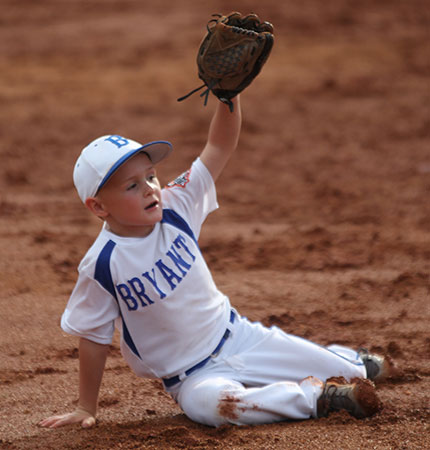 The team, coached by John Harrison with assistance from Mike Abrahamson, Brad Parker, Garrion Madison and Brad Silas, includes Paxon Abrahamson, Brantlee Baker, Chase Fleming, Jaxson Harrison, Garrion Madison, Chance Orender, Mason Parker, Trey Patterson, Brad Silas Jr., Caden Tolleson, Lane Warren and Young.
Thursday's first game was close throughout. Bryant put three runs on the board in the first inning as Madison, Harrison and Abrahamson had hits and scored runs. Parker's two-out single and a knock by Patterson capped off the inning.
Sylvan Hills came back with three of its own in the bottom of the first so it was tied going into the second. Orender led off with a double and Tolleson followed with a two-bagger to get him home. Baker's grounder to third resulted in Tolleson being tagged out but a hit by Young kept the inning going. Warren provided a two-out double then Harrison, Abrahamson and Fleming each had hits as Baker, Young, Warren and Harrison scored, making it 8-3.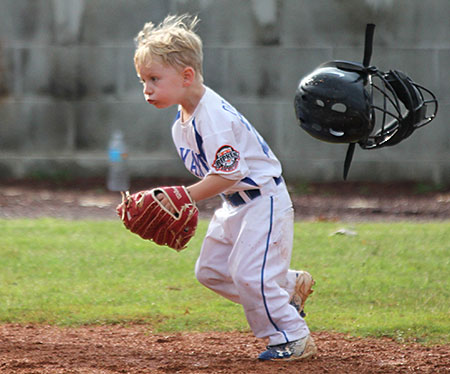 Again, however, Sylvan Hills answered with five of its own and the game was knotted at 8 going into the third.
Sylvan Hills limited Bryant to just one run as Silas singled and wound up scoring the lone run to make it 9-8.
In the bottom of the inning, Sylvan Hills scored four times to take the lead for the first time, 12-9.
Bryant countered with the maximum six runs in the top of the fourth to regain the upper hand. Baker, Young, Madison, Warren, Harrison and Fleming each scored to make it 15-12.
Sylvan Hills, however, matched the max, which produced the 18-15 lead going into the final inning.
Orender and Tolleson had one-out hits and moved to second and third on a grounder to first by Baker to set up Young's clutch hit.