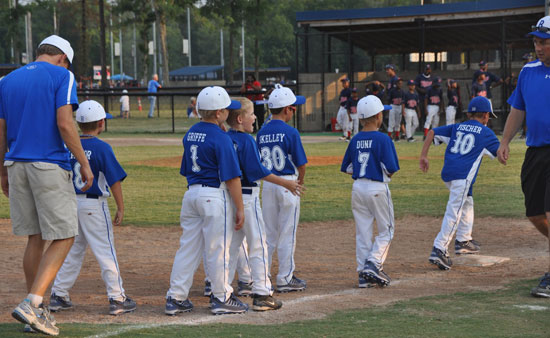 The Bryant 7-year-old All-Stars hammered out 11 runs on 13 hits in the first two[more] innings and cruised to an 11-4 win over their counterparts from Pine Bluff to open the 2012 District Tournament at Bishop Park Friday.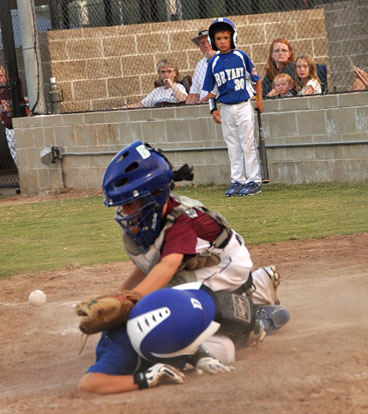 They followed up with a 23-5 romp over the Benton All-Stars.
Play in the tourney continues today.
Players for the Bryant team are Drake Brown,
 Tucker Dunn, 
Braxton Fisher,
 Matthew Griffe, Logan Hope, Mason Lucas, 
Logan Owen, 
Reece Rowland,
 Alex Skelley, 
Chase Small,
 Dylan Stroud, 
and Daniel Taylor. Joey Small manages the 7's with assistance from Jonathan Hope and Michael Stroud.
The Stars retired Pine Bluff in the first inning after a lead-off double. In the bottom of the frame, a one-out double by Hope led the way to a five-run uprising. Griffe beat out an infield hit as Hope held at second then Stroud's base hit loaded the bases for Brown who's infield hit plated Hope with the first run.
Dunn lined another RBI single then Skelley cracked a double to score two. Owen followed with a hit that scored Dunn to make it 5-0.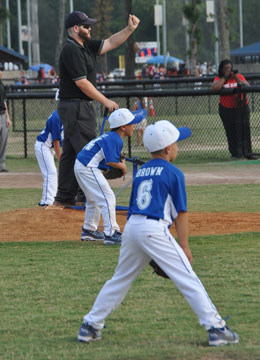 Pine Bluff got on the board in the top of the second with a double, a triple and a single but Bryant erupted for the maximum of six runs in the bottom of the inning. Lucas singled to start that uprising. With one out, Rowland doubled him home. A base hit by Small put runners at the corners for Hope who lined a base hit to bring Rowland in.
Small raced to third on the play and, after holding on Griffe's infield hit, scored ahead of Hope on a two-bagger by Stroud. Brown capped off the inning with a two-run double, making it 11-2.
Pine Bluff managed a pair of runs in the top of the fifth but it was too little, too late.
In the win over Benton, the Bryant Stars maxed out in each of the first three innings then added five more in the fourth to run away with the victory.
In the first, Small's double got things going. Hope singled him in then Griffe grounded a base hit. After Griffe stole second, Stroud lined a single past third to drive in both runs.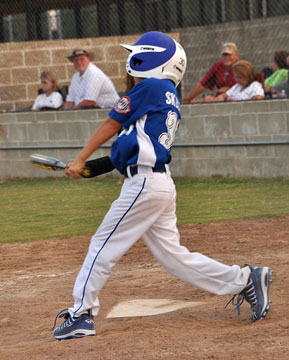 With one out, Stroud stole second then third and home to make it 4-0. Dunn kept the inning going with a base hit. He raced home when Skelley ripped a drive to left that went for a triple. Owen doubled him in and it was 6-0.
After Benton managed only a single by Hunter Ferrell in the bottom of the inning, Bryant went back to work in the top of the second. Taylor singled and Lucas doubled to get things started. Fisher ripped a drive to right for a triple to chase them both home. He then scored on Rowland's groundout to second.
The carousel revved up again when Small and Hope cracked singles and Griffe burned the center fielder for a two-run triple to make it 11-0. Stroud brought the onslaught to a conclusion with an RBI single.
Benton put together a four-run second. With one out, Cole Sullins, Aiden Fox, Trent Drumbrella, Jace Pike and Ethan Baldwin rapped consecutive singles to produce the runs. But, again, Bryant responded with another six in the top of the third.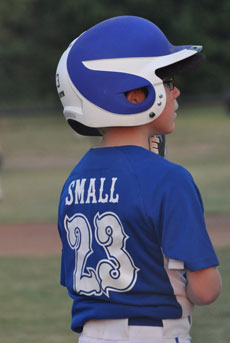 Brown instigated the outburst with a single and Dunn belted a double to set the table for Skelley who singled in both. With one out, Taylor singled in Skelley to make it 15-4. A double play Lucas and another by Fisher plated two more and, an out later, Rowland completed the scoring with an RBI double.
Benton put up two more in the bottom of the third on a double by Jack Woolbright, a triple by Ferrell and a pinch-hit double.
Bryant ended the game by putting it out of reach in the top of the fourth. Hope's double opened the floodgates again. Griffe beat out an infield hit as Hope held at second. Stroud hit into a force at third before Dunn and Skelley came through with RBI singles. Owen doubled in a pair and Taylor finished off the win with an RBI single.