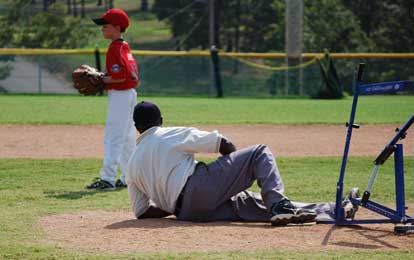 By Madison McEntire
SHERWOOD — In the third round of the state tournament, the Bryant 8-year-old All-Stars played their best all-around game to date, beating Cabot by a 13-0 score.
The All-Stars struck early with three runs in the first inning, using singles from Triston Day, Logan Chambers, Cade Dupree and Logan Grant. Coby Greiner started the second inning with a line drive up the middle that forced the umpire who was feeding the pitching machine to hit the deck.
Logan Catton followed with another hard single up the middle, causing the ump to joke about "getting a helmet". At the end of the inning, the All-Stars had scored four and led 7-0.
In the third, Will McEntire, Grant, and Garett Nguyen all singled and scored to increase the lead to 10-0. Day, Chambers and Nathan McFarland did the same in the fourth to make it 13-0.[more]
In addition to the good hitting, the All-Stars played played excellent defense as only four Cabot players reached base, with none of them advancing to second. One was erased in a nice 5-4-3 double play in the first that went from Grant to Chambers to McFarland and catcher Ryan Lessenberry threw out another one to end the game when he attempted to steal second base. Greiner also contributed an excellent sliding, shoe-string catch on a hard line drive to left-center in the third inning.
Bryant next takes on Marion at 2:15 p.m. on Sunday, July 12.