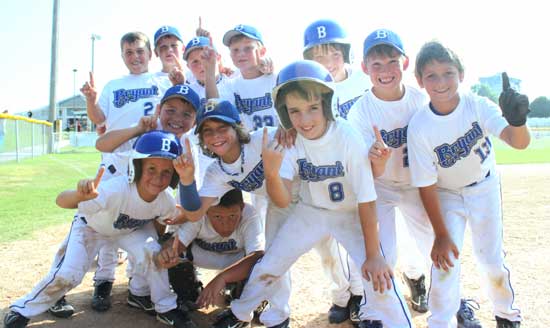 NORTH LITTLE ROCK — Playing on a field where the fences were a little closer than usual, the Bryant 8-year-old All-Stars slugged 13 home runs as they swept five games to capture the championship of a tournament at Lakewood ballpark over the weekend.
Seven different players clubbed homers with Trey McKim supplying six of them including the most dramatic, a walk-off grand slam that turned a 4-3 deficit into a 7-4 win. Rhett James blasted two along the way. Cade Drennan, Hayden Hilson, Colton Kilgore, Jake Meaders and Shane Small belted a homer apiece.
Bryant won the final, 12-5, over Monticello. To get to the title game, they beat the Lakewood Wildcats 18-5 and the Lakewood Chargers 16-1 during the tournament portion of the tourney. In pool play, they beat the Wildcats 13-5 then Little Rock Junior Deputry 7-4.
The Bryant 8's, managed by Clint Hilson with assistance from Mike Meaders and Bill Drennan, include Cade Drennan,
 Hayden Hilson, 
Colton Kilgore, 
Rhett James,
 Tyler Larue, 
Braydan Lester,
 Trey McKim, 
Jake Meaders,
 Riley Morales,
 Josh Prather,
 Shane Small and 
Gage Stark.[more]
Bryant, which won its District Tournament, is set to play in the State Tournament in Sherwood starting Friday, July 9.
Bryant 12, Monticello 5
Bryant broke open a close game with a five-run fifth that was capped off by McKim's three-run blast.
Hilson and Prather each had three hits in the game.
Bryant took an early 4-0 lead. Lester and Hilson opened the contest with singles then Larue's drive to right was misplayed. Drennan beat out a bunt hit then James singled McKim followed with a hit but Drennan was thrown out at the plate. Meaders beat out a bunt for single then Kilgore got the fourth run home when he bounced into a force at third.
Monticello put up two runs in the bottom of the inning but Bryant got those back in the second on hits by Stark, Prather, Morales and Hilson.
But Monticello retired Bryant in each of the next two inning without another run scoring. And a two-run homer for Monticello in the bottom of the fourth had the margin down to 6-4.
Bryant's fifth began with singles from Lester, Hilson, Larue, and Drennan. James bounced into a force at third but then McKim cracked his homer to left.
Suddenly trailing 11-4, Monticello could only muster a one-run rally in the bottom of the fifth.
Prather singled and eventually scored Bryant's final run in the top of the sixth.
In turn, Monticello loaded the bases but couldn't cut into the final margin.
Bryant 18, Lakewood Wildcats 5
By scoring the maximum of six runs in each of the three innings, Bryant eased to victory in the semifinals.
In the bottom of the first Lester and Hilson opened with singles then Larue beat out a bunt for a hit. Drennan singled to right then James grounded into a force at third as Hilson scored. McKim cracked a double than consecutive hits by Meaders, Kilgore and Small capped off the inning.
In the second, the Wildcats got on the board with two runs but Bryant trumped that in the bottom of the frame. Stark and Prather opened the uprising with singles, advancing on a sacrifice by Morales. Lester belted a double and Hilson singled. After Larue grounded out, Drennan cracked a two-run homer then, a pitch later, James blasted a solo shot to make it 12-2.
Lakewood answered with a three-run homer in the bottom of the inning to stay within striking distance but that didn't last long. McKim made it three homers in a row by leading off the third with a solo jack. Meaders singled and Kilgore drove one over the fence in left to make it 15-5.
Small singled but was later thrown out trying to advance. Base hits by Stark, Prather and Morales brought up Lester who socked his second double before Hilson finished it off with an RBI single.
Bryant 16, Lakewood Chargers 1
Bryant scored four in the first but maxed out in the next two innings to ease to victory in the first round of the tournament bracket.
The opening salvo featured doubles by Hilson and Drennan with singles from Larue, McKim and Kilgore.
After the Chargers scored their lone run in the top of the second, Bryant got singles from Stark, Prather, Morales and Hilson before Larue doubled. Drennan followed up with a base hit before scoring the sixth run on James' double.
The Bryant defense retired Lakewood 1-2-3 in the top of the third. The bottom of the inning began with solo blasts from McKim and Meaders. Kilgore reached on an error, as did Stark. Prather delivered a run with a sacrifice fly then Morales singled, Lester doubled and Hilson belted a single to make it 16-1.
Bryant 7, LR Junior Deputy 4
After the Little Rock team scored in the top of the sixth to snap a 3-3 tie, Bryant loaded the bases on Lester's single and a pair of errors that allowed Larue and Drennan to reach base. With two down, McKim won it with a grand slam.
It was his second of the game. The first came when he and James went back-to-back in the second to forge a 2-2 tie. Hilson's solo blast in the third gave Bryant the lead but Junior Deputy tied it with a homer to lead off the fourth.
Bryant threatened in the fifth with hits by Stark and Prather that had runners at second and third with two out but both were stranded.
Junior Deputy took the lead with a two-out uprising. A single and a trio of errors produced the run and had the bases full before Bryant got the third out to keep it a one-run game.
Bryant 13, Lakewood Wildcats 5
In their first meeting, Bryant struck for six in the first but Lakewood answered with five in the third to make it a one-run game. But Bryant kept scoring after that and Lakewood didn't.
A five-run fourth broke the game open and Bryant tacked on two more in the fifth to set the final score.
In Bryant's first, Lester singled and stole second, scoring moments later on Hilson's double. Larue singled and, with one out, so did James, getting the second run home. That brought up McKim who blasted a three-run homer to make it 5-0.
With two out, Kilgore singled. He eventually scored when Stark reached on an error.
Bryant was held scoreless in the second and third around Lakewood's five-run uprising which came on seven straight hits after two were out.
The answer in the bottom of the fourth began with Meaders and Kilgore reaching on errors. Small then raked a three-run homer to make it 9-5.
Stark singled and stole second, scoring on Prather's hit. After Prather swiped second, he scored on a double by Morales to make it 11-5.
The fifth inning started with singles by Drennan and James. An out later, an error on a ball hit by Meaders and a single by Kilgore made it a run-rule win.