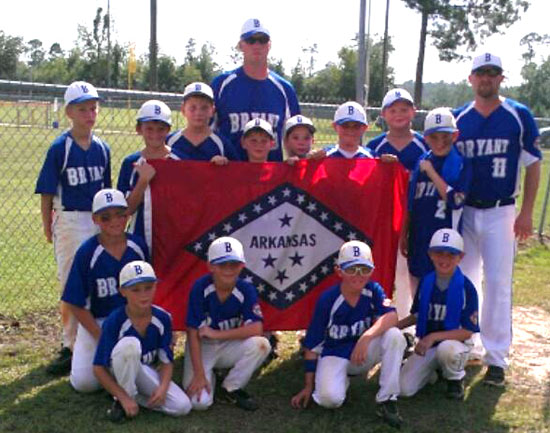 VANCLEAVE, Miss. — Bryant's Noah Davis and George County, Miss., pitcher Allen Williams were locked in a duel in[more] Monday's Cal Ripken Southwest Regional Tournament semifinals. Andrew Scott took over for Williams in the fourth after Davis and his teammates on the Bryant 9-year-old All-Stars scratched out a run in the second.
And, while Scott continued to shackle Bryant, the Mississippi team rallied for three runs in the fifth to take a lead that held up for a 3-1 win, ending Bryant's Regional run.
The Bryant 9-year-old All-Stars are Aidan Adams, 
Tyler Bates,
 Dakota Clay,
 Cooper Davis,
 Noah Davis,
 Peyton Dillon,
 Will Hathcote, 
Cameron McDonald, 
Justin Orender, Ryan Riggs,
 Austin Schroeder, 
Lawson Speer, 
Garrett Wilson. They are managed by Matt Orender. He's assisted by Jeff Clay and Paul Speer.
Bryant's second-inning run was scored by Schroeder, who opened the inning with a single and stole second. Clay singled him to third and when Davis's fly to center fell in, the run scored despite Clay being forced out at second.
Williams had pitched around a two-out single by Wilson in the first and would escape despite a one-out walk to Noah Davis in the third.
Meanwhile, Noah Davis retired 12 of the first 13 batters he faced, only allowing a two-out walk in the second. He struck out four along the way.
In the fifth, however, a pair of singles and, a one-out walk, filled the bases. Two runs scored on wild pitches then the third came in on a two-out single by M.J. Daniels before Hathcote relieved and got the final out.
Scott had retired the side in order in the fourth and, in the bottom of the fifth, hit McDonald with a pitch but Bryant was unable to take advantage.
After Hathcote worked around a one-out single in the top of the sixth, Bryant threatened in the home half. With two down, Wilson ripped a double. Dillon singled then stole second to put the tying runs in scoring position but both were stranded when Scott got the final out on a grounder to third.