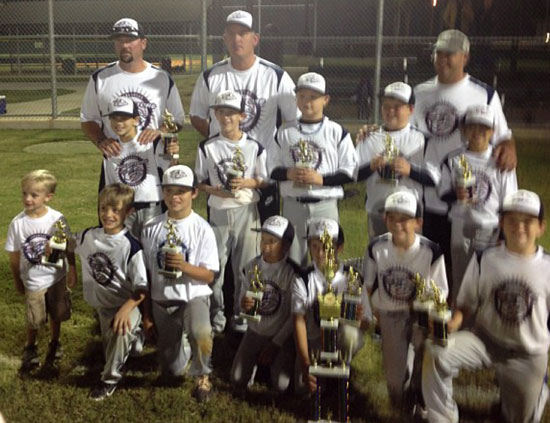 CONWAY — The Central Arkansas Predators, based in Bryant, won the 10 AA State[more] championship with a 6-3 victory over the South Arkansas Elite to top off a 5-0 weekend.
Team members include Aiden Adams, Austin Ledbetter, Ryan Riggs, Clay Curtis, Brett Pennington, Will Hathcote, Joshua Turner, Cameron McDonald, Logan McDonald, Blaine Sears and Cannon Allison.
Hathcote and Turner each won games on Friday night in pool play with wins over Fieldhouse Demarini 11-1 and the Wild Hawgs 5-4. Coming back Sunday as the 3 seed, Hathcote picked up another victory with a 16-1 win over the Arkansas Aces. Adams then pitched four strong innings in the semifinals to win a close game 6-2 over the Easton Elite.
In the championship game, Ledbetter struck out 12 while Cameron McDonald went 2 for 3 with a double and an RBI while playing a strong center field.
McDonald actually went 8 for 9 on Sunday with two doubles, three runs batted in and four stolen bases. Brett Pennington saved both the semifinal and championship games.
The Predators finished the fall season with the No. 1 ranking in the state and the No. 8 ranking in the National Baseball Boys 10 and under AA rankings.
The team's manager is Greg Riggs with coaches Scott Curtis and Scott Allison.