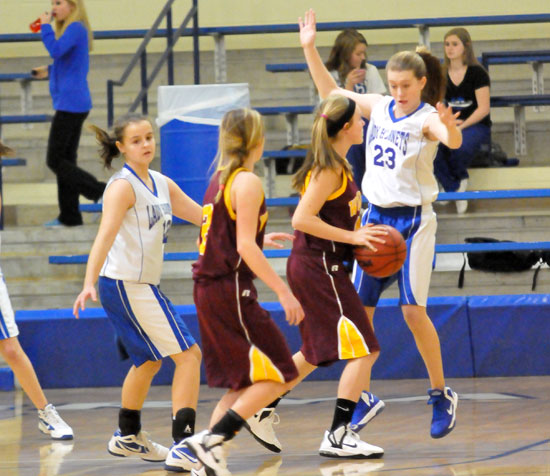 By Rob Patrick
Photos by Kevin Nagle
It was kind of slow going for the Bryant Blue Lady Hornets of Bethel Middle School and the[more] Lake Hamilton Lady Wolves in their eighth grade basketball game at the Bryant Middle School gym Thursday night. Going into the last 2:30 of the first quarter, the score was just 3-2.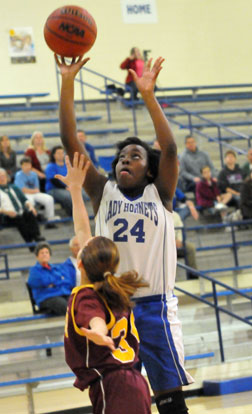 But the Lady Hornets closed out the quarter with a 9-0 run and it was never that close the rest of the way as Bryant Blue improved to 12-3 on the season with their fourth win in a row and seventh in the last eight games.
Eight players contributed to the scoring in the Lady Hornets' 33-11 win.
Riley Hill led the way with 9 points to go with three steals and three rebounds. Kendall Rogers added 7 points and had four steals. Sarah Kennedy and Morgan Walters pitched in with 4 points each. Reagan McCormick tossed in a 3 while Penny Smith, Ti Foote and Bethany Hutchison scored 2 each.
Smith led the team with six rebounds. Kasey Ward hauled down five. Walters made three steals.
Hill hit the first basket in the Lady Hornets game-turning run off a nice feed from Smith. A Lake Hamilton turnover produced a basket by Kennedy with Rogers assisting. Rogers followed up with a steal and, though Kennedy couldn't get a shot to go, there was Smith with the offensive rebound bucket to make it 9-2.
Lake Hamilton's subsequent possession was undermined by an illegal screen and, with :58 left in the quarter, McCormick found herself open on the right wing, raining down a 3 that made it 12-2 going into the second quarter.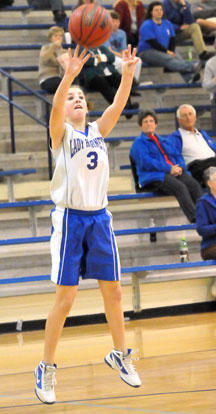 The Lady Hornets led 15-5 at the half. They blew the game open with an 18-2 run that stretched into the late stages of the fourth quarter. Rogers and Hill accounted for Bryant Blue's 10 points in the third quarter then Lady Hornets head coach Rhonda Hall worked in her reserves in the final stanza.
Walters banked in a jumper to start the fourth quarter, extending Bryant Blue's lead to 27-7. Foote followed up with a bucket after grabbing an offensive rebound. A 12-footer by Walters and a basket inside by Hutchison off a dish from McCormick made it 33-7.
Bryant Blue returns to action on Tuesday, Jan. 22, when they host Bryant White. The Lady Hornets conclude their season on Monday, Jan. 28, at home against Lighthouse Charter.