By Rob Patrick
Photos by Rick Nation
Quarterback Desmond Duckworth of the Bryant Blue Hornets of Bethel Middle School had more of his[more] coach's trust that he realized.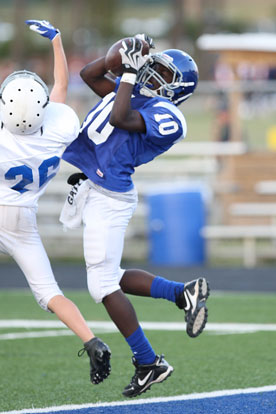 When the Hornets reached the North Little Rock Lakewood Cougars' 9 yard-line midway through the third quarter of a scoreless eighth grade game at Bryant Stadium Thursday night, Duckworth thought he saw an opportunity to change a play called in the huddle to something better.
But he wasn't sure it'd be okay to do that.
"We've been working on that, when we get certain coverage, I'll let Desmond check the play if he likes the match-up or something," related Bryant Blue coach Dale Jones. "He didn't know if he wanted to do it or not. He looked over at me and said, 'I want to check it.' I said, 'Well, go ahead.' I've been telling him for month, if he likes it he can check to it. I don't think he believed me."
With the new play relayed to his teammates, Duckworth rolled out and found Caylin Allen for a touchdown pass that, with the two-point conversion, provided the only points of the game.
"It worked out real nice," Jones noted.
Phillip Isom-Green, who was on his way to a 102-yard performance on the ground, ran in the two-point conversion to make it 8-0 with 3:20 left in the third quarter.
The Bryant defense, which held Lakewood to 99 yards of offense — almost half of which came on the Cougars' first possession — made that score stand up for the victory.
"I was a little worried in the first quarter because they had that extended drive," Jones allowed. "But, I tell you what, when the chips are down, those guys on defense step up. They stopped them in the first quarter and they got down there close right before halftime but our guys just won't let anybody in."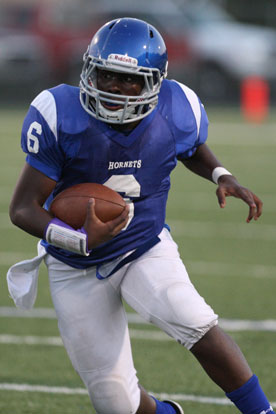 Now 3-1 this season, the Bethel team has posted shutouts in each of its wins. The Hornets haven't allowed a point in eight consecutive quarters. They'll try to keep that streak going on Thursday, Sept. 27, against Little Rock Horace Mann.
Lakewood's opening drive started at the Bryant Blue 48 when an onside kick attempt was covered by the Hornets before it went 10 yards.
The Cougars drove to the 22 but, on a first down play there, Sam Harrison and Collin Welch dropped Lakewood's Reed Shepherd for a loss of 6.
The Cougars got that back on a pass from quarterback Owen Stuckey to Shepherd. But, on third down, Stuckey was hauled down for a loss by Josh Bonner and London Taylor.
Lakewood went for it on fourth down and came up just short. Bryant took over on downs and drove to near midfield before a fumble on a fourth-down try was recovered by the Cougars' Anthony Scott.
A last-ditch effort to get on the board by Lakewood ended when Stuckey's third-down pass from the 30 was picked off by the Hornets' Zack Lewis.
It was the first of two picks Bryant Blue would come up with. Duckworth sealed the victory on the last play of the game, with an interception at the Hornets' 35.
Bryant got the ball to start the second half but they almost lost it on the kickoff because of a fumble at the end of the return but Kale Kimbrough recovered for the Hornets.
The Hornets drove to the Lakewood 41, thanks in large part to a 13-yard gallop by Isom-Green the converted a third-down situation. On the next play, Duckworth kept for 4 yards. At the end of the play, there was a pileup and two Lakewood players — one on top of the other — did not get up.
A long delay ensued as both were attended to then lifted onto gurneys and taken from the field by Medtran EMTs.
Both teams were given time to warm-up again and when play resumed, the Hornets picked up where they left off. Duckworth, who wound up 8 for 8 passing for 81 yards and his scoring toss, hit Allen for 12 yards. After Isom-Green lost a yard on first down, the Hornets tried some razzle-dazzle. Duckworth threw a lateral to the right side to Hastings who turned and threw to Allen for a first down.
On the next snap, Duckworth and Allen connected for the TD.
Lakewood answered with a march from its own 37 to the Bryant 38 where, on first down, Allen dropped Stuckey for a loss. A second-down run by Zach Freeman was spoiled by Taylor for a loss of 6.
A screen pass was sniffed out by the Hornets and only picked up a yard so the Cougars faced a fourth-and-19.
They went for it but Stuckey's pass to Freeman fell short when Duckworth made a stop at the 35.
Bryant Blue took over with 5:35 left in the game and milked over five minutes off the clock. Isom-Green started the drive with a 15-yard burst. Moments later, a third-down was converted on a Duckworth-Allen connection to the Lakewood 39.
With Isom-Green running behind the active offensive line for the Hornets, they reached the 22 where, on third-down, he was stopped for a loss.
After a penalty turned a fourth-and-8 into a fourth-and-13, Duckworth picked up just 8 yards and the ball went over on downs at the Cougars' 35.
Two plays later, Duckworth picked off Stuckey's long pass as the horn sounded to end the game.