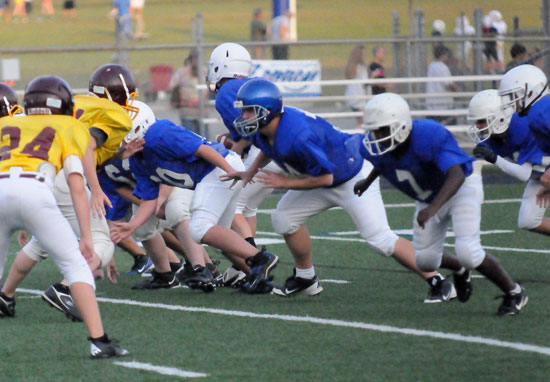 Photos by Kevin Nagle
Six different players scored for the Bryant Blue Hornets seventh grade team Monday night as part of[more] a 46-0 victory over the Lake Hamilton Wolves seventh grade B team at Bryant Stadium.
Parker Ray opened up the scoring with a 54-yard touchdown run. Parker Littleton added a run for the 2-point conversion. Littleton added a TD run from 5 yards out and, with quarterback Cameron Vail keeping on the conversion, it was 16-0. Vail added to the scoring with an interception that he returned 41 yards for a touchdown. Littleton tacked on the conversion to make it 24-0 at the half.
In the second half, Diante Woodson's 70-yard touchdown bolt increased the lead. On the 2-point conversion, Vail found Sarah Evans for the 2-point conversion. The onslaught continued when Eddie Menjivar raced 23 yards for a TD to make it 38-0.
To cap it off, Malcolm Moody broke a 16-yard touchdown run. The conversion run by Myers Buck set the final score.
The Bethel team returns to action this Thursday against Little Rock Horace Mann, starting at 5:30 p.m. An eighth grade game will follow at 6:30.