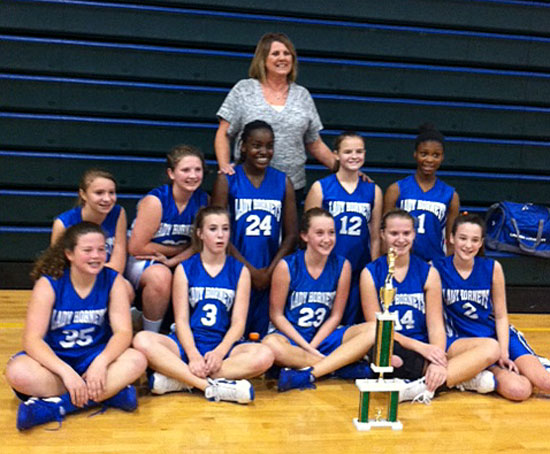 Photo courtesy of Danny and Susan Kennedy
LITTLE ROCK — With what head coach Rhonda Hall called their best night shooting the ball, the[more] Bryant Blue Lady Hornets eighth grade team of Bethel Middle School captured the championship of the Wildcat Shootout at Episcopal Collegiate Academy on Saturday. A 20-point third quarter blew open the game as the Lady Hornets went on to defeat 43-20 over the Anthony School.
"I was excited for the girls that they could win their second tournament of the year," Hall said, referring to the championship her team won at the Anthony School tourney earlier in the season. "They shot the ball as well as I have ever seen this group shoot."
Riley Hill led the way with 14 points. Reagan McCormick hit for 12. Sarah Kennedy and Penny Smith each had 4 with Kendal Rogers adding 3. Kasey Ward, Ti Foote and Megan Khuchinski finished with 2 apiece.
Bryant Blue trailed 6-4 after a quarter but put together a 13-2 second quarter blitz that produced a 17-8 halftime edge. The big third quarter made it 37-16 going into the final stanza.
The Bryant Blue seventh grade team also closed out the tournament on a positive note by eking out a 16-13 win over Arkansas Baptist. Raija Todd led with 10 points. Danielle Singleton had 4 and Baylee Rowton 2.
Bethel led 4-0 after a quarter but trailed 5-4 at the half. The third quarter proved to be a turning point. By the end of the period, the Lady Hornets led 11-7.
The eighth grade team is now 8-2. The seventh grade team is 6-0. They both play again on Tuesday, Dec. 11, at home against Cabot North.