For more photos by Kevin Nagle, go here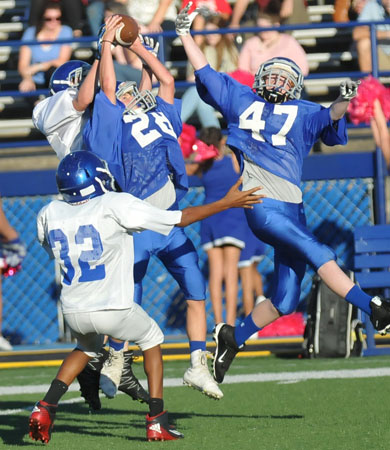 In the seventh grade version of the Hornet Bowl on Monday night, the Bryant Blue Hornets of Bethel Middle School made it a sweep with a 16-0 victory over the rival Bryant White Hornets of Bryant Middle School.
Blue took the lead in the first half when Fabian Torres scored and Tyler Bates added a run for a two-point conversion.
In the second half, Bates threw to Issac Devine for a touchdown. Lawson Speer ran in the conversion to make it 16-0.
"Our defense played outstanding, forcing several turnovers with Lawson securing an interception," said Bethel coach Josh Akers. "We forced Bryant to punt several times and turned the ball over on downs.
"I'm very proud of the kids this year and the hard work they put in," he added.
"Not many highlights on our side," said Bryant White coach Josh Fonville. "Our best athlete/starting running back (Collin Craft) broke his leg last week and I could definitely tell on our offense."
The game concluded the season for both teams.