Photos by Rick Nation
The Bryant Hornets' Chase Stuart scored a goal to forge a 1-1 tie with 1:26 left in regulation and,[more] in penalty kicks in a shootout, the Hornets prevailed 4-1 for a 2-1 win over the Russellville Cyclones Friday night at Bryant Stadium.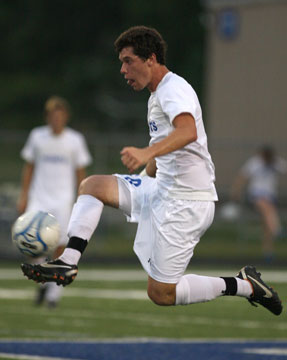 It was the second time this season the Hornets have beaten the Cyclones after never having beaten them before.
This time, it kept them in a tie for second place with Conway and Little Rock Central in the 7A/6A-Central Conference. They trail Little Rock Catholic by a game. The Hornets visit Catholic on Monday then host Conway on Tuesday. They play at Cabot on Friday.
"Our guys were tired after playing back-to-back games," noted Hornets head coach Jason Hay, referring to the Hornets' win over Van Buren on Thursday night. "Our depth helped us out again tonight. It was a huge difference in the second half, keeping the pressure on Russellville."
Russellville had snapped a scoreless deadlock with 13:11 left to play, scoring on an open goal after keeper Jace Denker came out trying to clear the ball.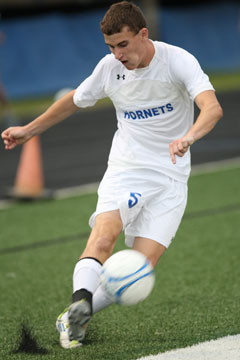 Bryant's tying goal by Stuart came off an assist from Forrest Fowler.
In the shootout, Russellville chose to go second so Fowler took the first PK for Bryant and found the left side of the net.
Hornets' keeper Victor Rodarte blocked Russellville's first try. In turn, Bryce Denker knocked in Bryant's second attempt.
Russellville's second try went wide so when Alex Rowlan was good on Bryant's third try, the Cyclones were down to their last chance. They stayed alive for the moments but when Jesse Wolf got Bryant's fourth PK into the net, it clinched the win.
"We practice PK's every day at the end of practice," Hay noted. "After regulation ended, our five players that were taking our PK's knew that we were prepared because of that. They also remember the 7-0 beating we took from Russellville when they were freshmen. No doubt that helped push us tonight."
The Hornets improved to 12-3 overall this season, 7-3 in league play.