Bryant boys return to action with 3-0 win over Central
EDITOR'S NOTE: Because the look back at each day in Bryant athletic history has been so favorably received during the time when there was no sports during the COVID-19 shutdown, BryantDaily.com will continue posting past stories of Bryant athletics either posted on BryantDaily.com (from 2009 to the present) or published in the Bryant Times (from 1998 to 2008).
For more photos of this event by Kevin Nagle, go here
After a rugged week before spring break then the week away from competition, the Bryant Hornets soccer team returned to 7A-Central Conference action on Monday with a 3-0 win over the Little Rock Central Tigers.
Both teams came into the action with 1-1 conference records.
"It's good to get back winning after a tough week before spring break," acknowledged Hornets coach Richard Friday, whose team won one, lost one and tied one in three close battles that week. "If we can polish it up, we should be strong finishing up the first half of the season."
Bryant is scheduled to host Fort Smith Southside on Thursday and Cabot on Tuesday, April 3.
Regarding Monday's game, Friday said, "We were pretty dominant in most parts of the game, but we had our typical issues in the final third.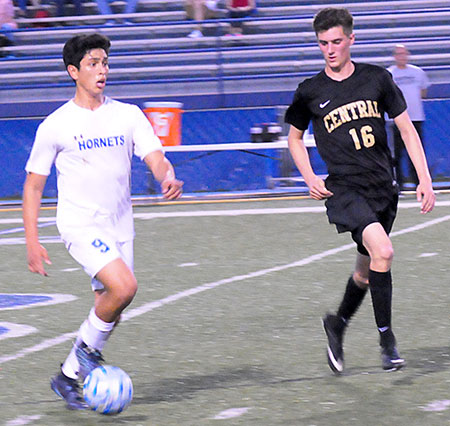 "We got a good break in the second half when a free kick from Jhorman Cruz was mishandled by their keeper. It was followed in by Ricky Barrientos and eventually put in by Martin Ramirez.
"Shortly after, Oscar Jimenez was fouled in the box for a penalty that was converted by Dawson Oakley," the coach continued. "Then, around 10 minutes later, a cross was put in from wide and Alberto Rodarte finished it off."
The Hornets are now 5-2-3 overall.