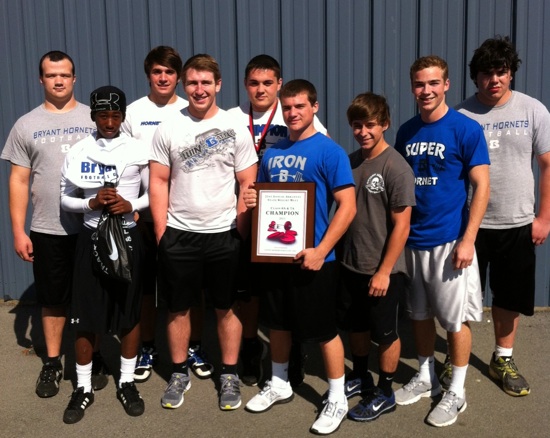 RUSSELLVILLE — The Bryant Hornets, led by senior Tim Kelly, won the 2013 7A/6A State[more] weightlifting competition on Saturday at Russellville High School. As a team, the Hornets combined to lift 4,990 pounds in the bench press and the power clean.
Kelly was the individual champion in the 242-pound weight class, lifting a combined 670 pounds.
A pair of Hornets took third place in their weight class and another was fourth. In the 132-pound class, Hunter Freeman was third, lifting 390 pounds. Colton Burton was third in the 220-pound class, lifting 590 pounds. At 148 pounds, Austin Vail was fourth with lifts accumulating to 470 pounds.
Also contributing to the championship were Drew Martin in the heavyweight division (580 pounds); Noah Flores in the 259-pound division (620 pounds); Austin May in the 198-pound division (555 pounds); Ben Bruick in the 181-pound division (500 pounds); Jacob Irby in the 165-pound division (450 pounds); and Tyler Dedmon in the 123-pound division (165 pounds).