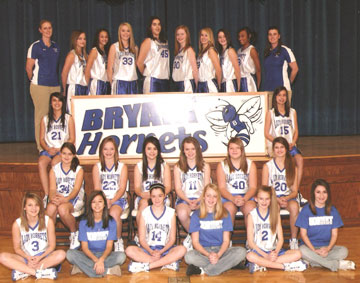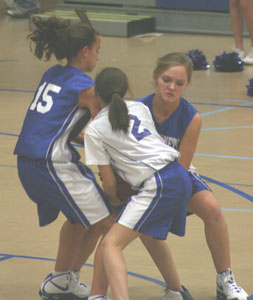 By outscoring their opponents 672-298, an average score of 37-16, the Bryant Middle School eighth grade Lady Hornets basketball team ran through their 18-game 2008-09 season undefeated and, almost unchallenged.
The team, coached by DeAnna Ward with assistance from Angel Dale, included McKenzie Adams, Rochelle Aguillar, Lauren Buck, Amanda Butler, Lauren Coggins, Skylar Combs, Courtney Davidson, Logan Davis, Haley Everett, Shelby Gartrell, Jackie Hill, Sarah McPherson, Whitney Meyer, Kiara Moore, Hannah Raney, Hannah Rice, McKenzie Rice, Kristen Scarlett and Ashley Williams with managers Spencer Byars, Krissia Meeler and Shaunte Lee.
"This is the most talented group of girls that I have coached," Ward stated. "If they keep working hard, I predict that they will be State Champs in four years."[more]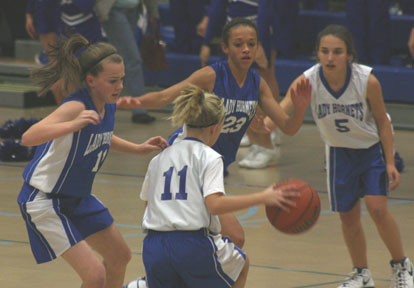 Adams was the team's leading scorer while Aguilar topped the team in rebounding. Moore led in assists. Gartrell and Davis had the highest shooting percentage on the team while Buck had the top free-throw percentage.
Here are the scores for the season:
Bryant 42, Morrilton 15
Bryant 45, Arkadelphia 10
Bryant 37, Bethel 0
Bryant 33, Episcopal 5
Bryant 34, AR Baptist 23
Bryant 53, Rose City 7
Bryant 34, Sheridan 9
Bryant 32, Sheridan 17
Bryant 43, Ridgeroad 32
Bryant 41, Bauxite 29
Bryant 33, Cabot S. 15
Bryant 39, Ridgeroad 24
Bryant 35, Malvern 18
Bryant 24, Benton 14
Bryant 33, Lakewood 20
Bryant 38, Lake Hamilton 12
Bryant 42, Lakewood 21
Bryant 34, Cabot S. 27