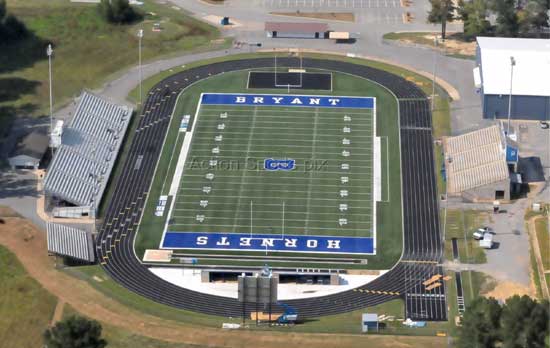 By Rob Patrick
Aerial photo by Kevin Nagle (courtesy of Curtis Ferguson)
At first blush, it seems like it's about as basic as you can get.
When asked what he wants to see from his team in its pre-season scrimmage against the Pine Bluff Zebras Monday, Aug. 23, at Bryant Stadium, the very first thing Hornets head coach Paul Calley mentioned was, "I hope we can get lined up correctly."
He wasn't being facetious.[more]
"It's all based on numbers," he explained. "If you don't have the numbers to counter what (the opponent has) or at least to equal what they have then the chance of giving up a big play is a lot greater or the chance of having a bad play on offense is greater.
"We use multiple formations," Calley continued. "Our offense has become a lot more complex over the last several years than it was in the past."
That's been a product of Bryant's evolution from a spread team under Daryl Patton and early in Calley's tenure to a more flexible offense that has, at times, been a downright grind it out on the ground style.
"When you're a spread team, you can go fast because you don't have that many formations," he related. "Your plays are limited. What we have now offensively is a plethora of plays and formations. And our kids have to be really smart and they have to concentrate."
The coach has said in the past that the new artificial surface at Bryant Stadium has helped his team get lined up properly because of the permanent yard lines, hashes and numbers on the turf.
The varsity will play a full half with kicking game to start the scrimmage around 6 after the freshman team completes its scrimmage that starts at 5 p.m. After a break (halftime), the second-team offense of each team will run 12 plays against the second-team defense of the other before the scrimmage wraps up with 10 plays for each of the third-team offenses and defenses. There will be no kicking game in the second half.
"I hope we can get plays in efficiently and get the ball snapped with plenty of time left on the play clock," Calley mentioned. "I want to make sure we don't turn the ball over and we don't have a lot of penalties. We're going to have penalties, I just don't want it be a penalty fest.
"Defensively, I want to see communication," he added. "I want to make sure we're in the right coverage. I want to make sure that our front is aligned correctly and that we don't give up any big plays."
The concentration he mentioned may be a challenge if the weather stays hot.
"I'm worried about the heat. You know, we haven't pushed them very hard during practice because of the heat. And I'm afraid that we're going to see some fatigue early. We practice hard at times but not like we have in the past because we didn't want anybody to suffer because of the heat. So that may be a factor. I think the first couple of series, we'll be okay but I think the third series will be critical because we may have a mental letdown because we're a little tired."
After video of the scrimmage is broken down and discussed with the players, the Hornets will begin focusing more on game preparations for the 2010 Salt Bowl against Benton at War Memorial Stadium in Little Rock on Sept. 3.