By Rob Patrick
Photos by Kevin Nagle
PEARCY — Points came at a premium much of the night Monday when the Bryant Lady Hornets and[more] Lake Hamilton Lady Wolves freshmen teams met in Central Arkansas Junior High Conference action. But when Lake Hamilton's Alex Murray drained a long 3-pointer with 2:54 left in the second quarter, it became an uphill battle for the visiting Lady Hornets.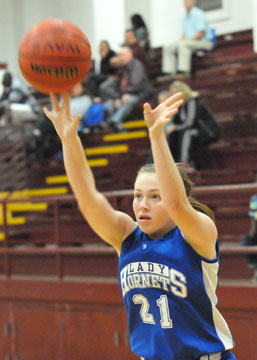 Murray proved to be the big difference in the game, scoring 12 points, in her team's 30-14 win.
The Lady Hornets managed to hit just one of nine shots from the field in the first half, going scoreless in the second quarter. They trailed 4-3 when Britney Sahlmann converted a three-point play with 2:31 left in the opening period. By the time the Lady Hornets scored again, Lake Hamilton had built a 13-3 lead.
In fact, Sahlmann's field goal was just the second field goal attempt by Bryant. The Lady Hornets worked and worked in their offense, trying to get open looks but the Lady Wolves made those opportunities tough to find.
Lake Hamilton only mustered those 4 points in the first quarter on a layup by Murray off a steal and a basket inside by Katie Carpenter.
When Murray hit her 3, it gave the Lady Wolves a 9-3 edge. Mallory Mixon added a basket and Elle Henson a free throw in the final two minutes to set the 10-point halftime margin.
Using a back-door cut to get open, Anna Lowery took a feed from Skylar Davis for a layup that served to end Bryant's drought with 4:25 left in the half. Henson and Bryant's Annie Patton traded baskets and it was 15-7 with 3:50 to go.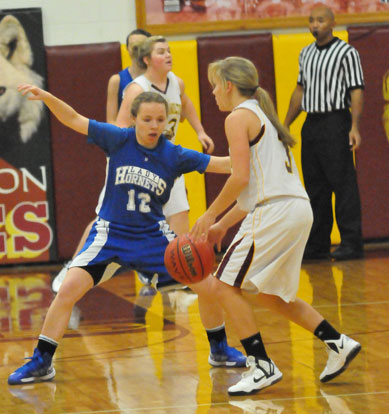 After that, however, only a pair of free throws by Davis added to Bryant's total before the end of the quarter. Lake Hamilton was struggling too but Murray made a pair of steals, which produced layups including one with :24 left extending the margin to 21-9 going into the final six minutes.
Then when Mixon scored the first 4 points of the fourth quarter, the Lady Wolves had their largest lead of the game at 25-9, forcing a Bryant timeout with 4:50 left.
Davis gave the Lady Hornets hope when she nailed a 3 at the 3:38 mark. But, at the other end, Murray answered to pretty much clinch the victory.
Davis led Bryant with 5 points. Sahlmann was held to just that early three-point play but she also gathered a game-high seven rebounds. Lowery, Patton and Kara Moser added 2 points each.
Now 3-4 overall, Bryant is 1-1 in league play going into Thursday's home contest against Conway White. The Lady Hornets would love to get back at the Lady Cats, who denied them the championship of the Bryant Invitational Tournament on Nov. 15.