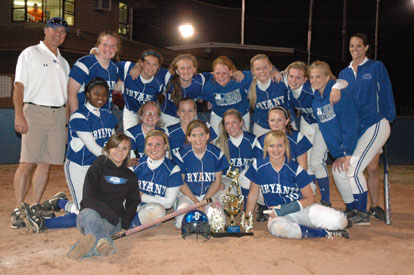 SHERIDAN — Plagued for the second game in a row by a slew of illegal pitches, the Bryant Lady Hornets overcame the adversity and the Sheridan Lady Jackets to capture third place in the Sheridan Invitational Tournament on Saturday.
The Lady Hornets opened with an 8-0 win in five innings over Watson Chapel then, for the second day in a row, lost in extra innings to the Lady Wolves of Lake Hamilton, 3-1. In the third-place game, Bryant trailed 4-3 going into the seventh inning but rallied for two runs and the victory. Peyton Jenkins drove in Kayla Sory with the winning run.[more]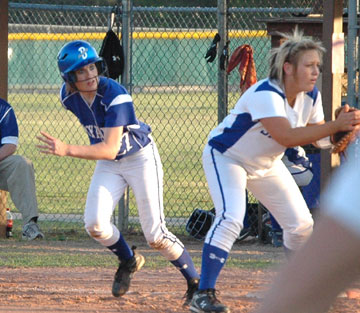 Bryant improved to 11-6 on the season with a home game against Greenbrier set for Monday, April 6, before a return to 7A-Central Conference play on Tuesday with two at home against the Mount St. Mary's Belles. The Lady Hornets are 4-1 in league play to this point.
Christen Kirchner allowed eight hits, walked one and struck out one in the win over Sheridan. But, in the third inning, a series of illegal pitch calls by the field umpire spurred a Sheridan uprising. In all, five were called. The result of illegal pitches is a ball on the batter and any runner on base advances to the next base.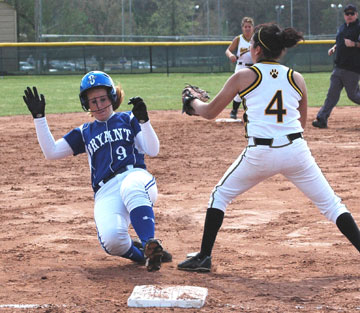 The seventh inning rally began when Jenna Bruick slapped a single. Sory followed suit then Kirchner sacrificed to get Bruick home with the tying run. With Sory at second, Jenkins lined one over the second baseman's head to drive in the game-winner.
"That was a good win for us," stated Lady Hornets coach Lisa Stanfield. "We had to overcome several bad calls against us and other distractions to win it. It shouldn't have been that close, but we wanted it more in the end."
In the game against Lake Hamilton, Kirchner went 2 for 3 and scored the lone Bryant run. Jenkins scattered 11 hits, walked one and struck out four but was cited for five illegal pitches.
In the opener, Sory limited Chapel to just three hits and a walk while striking out seven. The Lady Hornets scored eight runs on seven hits and stole five bases.