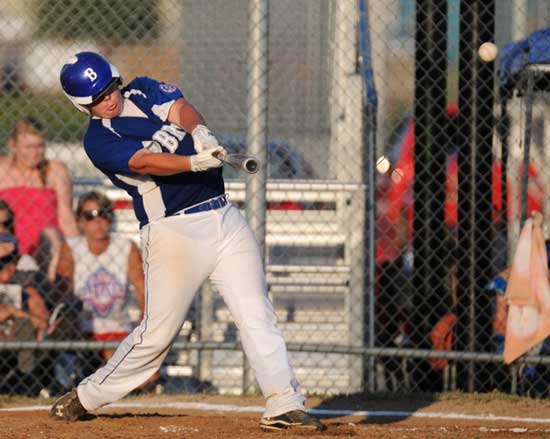 Photos courtesy of Ron Boyd
BENTON — The Bryant All-Stars are a win away from capturing the 2011 Babe Ruth 14-year-old State championship after[more] a 10-4 win over Monticello in the winners bracket final on Monday at Bernard Holland Park.
The Bryant 14's include Dakota Besancon, Ben Bruick, Britton Crouch, Devon Dupree, Clifton Hampton, Dalton Holt, Regon Jefferson, Andrew Kincaid, Austin Montgomery, Hunter Oglesby, Jimbo Seale, Drew Tipton and Jacob Ward. Jeff Besancon manages the team with assistance from Chris Tipton and Stephen Kincaid.The team awaits the survivor of the loser's bracket. Today, Clark County was set to play El Dorado with the winner taking on Monticello immediately afterwards for the right to play Bryant in the championship round on Wednesday at 6 p.m., with an "if" game following if needed.
On the way to the champioship round, the Bryant Stars shut out Pine Bluff Seabrook 7-0 on Saturday then thumped Benton 17-0 on Sunday.
In Monday's game, Ward blasted a grand slam as Bryant snapped a 4-4 tie in the fourth inning. The Stars put the finishing touches on the win with a pair of runs in the fifth as Dakota Besancon came on in relief of Ward, the starter, to shut out Monticello over the final four frames.
Crouch had reached on an error to start the game-breaking fourth for Bryant. Bruick beat out a bunt for a hit as Crouch took third. After Bruick stole second, Benton kept them there by retiring the next two batters before Oglesby worked a walk. The count went full on Ward before he blasted his homer over the fence in left.
Holt singled to start the fifth then so did Hampton. A passed ball allowed Holt to take third but he was tagged out when he tried to score. Crouch was hit by a pitch and, on a wild pitch, Hampton scored. Crouch made it to third on an error then scored when Bruick reached on another Monticello miscue.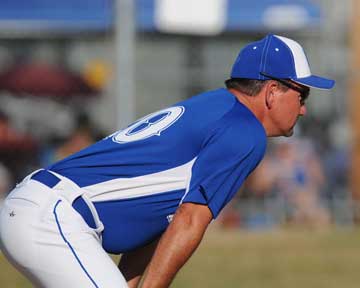 Monticello had struck first in the game, taking a 1-0 lead in the top of the opening inning. In the bottom of the inning, however, Bryant scored four times. Tipton drew a one-out walk, advanced on a throwing error by the pitcher then scored on a bad throw from right. With two down, Ward worked for a free pass and Dupree singled. Hampton walked and Crouch singled to cap the inning off.
Ward pitched out of a bases-loaded jam in the second but, in the third, Monticello rallied for three runs to tie it.
Besancon took the mound in the fifth and pitched around a two-out walk and a single. In the sixth, he forced Monticello to strand runners at second and third. He wound up retiring eight of the last nine batters he faced, ending the game in style with a strikeout.
Bryant 17, Benton 0
Oglesby and Besancon combined on a three-hit shutout and Bryant scored in four of its five at-bats including six times in the second and seven more in the fifth.
In three innings, Oglesby allowed two singles while recording strikeouts on six of the nine outs. Besancon surrendered a lead-off single in the fourth then retired six in a row to finish, fanning two.
Bryant took a 2-0 lead in the first. Besancon was hit by a pitch and, after he stole his way to third, scored on a single by Tipton. After Tipton stole second and took third on an errant throw, he scored on a balk.
The big second-inning outburst started with Hampton getting plunked with a pitch. Crouch, Kincaid, Besancon, Tipton and Oglesby then rifled off consecutive doubles. Oglesby scored the sixth run on a groundout by Dupree.
The lead grew to 10-0 in the third. Again, a hit batsman started things. This time, Crouch took one for the team. Kincaid walked and so did Besancon. Crouch scored on a wild pitch and then Tipton singled in Kincaid.
The fifth inning blitz commenced with a single to right by Crouch. With one out, Besancon singled then Tipton chased both home with a triple to right-center. Oglesby was hit by a pitch and Ward walked to load the bases. Tipton scored on a passed ball and Dupree singled in a run. After Holt walked, Hampton smacked a double to make it 17-0.