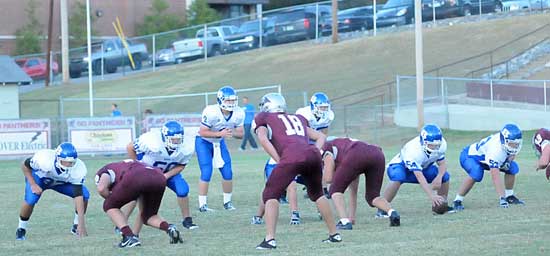 Photos by Kevin Nagle
BENTON — On the ground, through the air and on defense, the Bryant Hornets junior varsity team[more] piled up points in a variety of ways Monday night on the way to a 40-21 win over the Benton Panthers JV at C.W. Lewis Stadium.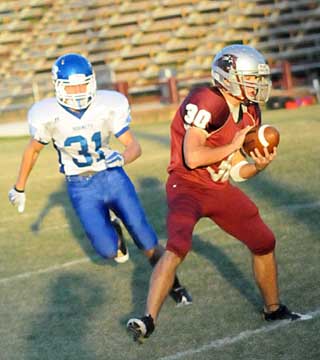 One quarterback, Wesley Akers, threw for a touchdown and ran for one and another, Devonte Howard, ran for one. Davis Nossaman intercepted a pass to set up his 22-yard touchdown run on offense. Stoney Stevens and Jake Johnson each contributed a pick-6.
To start the scoring, Bryant drove down the field with Akers completing a pair of passes apiece to Greyson Giles and Austin Powell. That set up his quarterback sneak for the touchdown.
In the second quarter, Powell hauled in a 15-yard touchdown pass from Akers as the lead extended to 14-0.
Benton got on the board on the last play of the first half, hitting a long touchdown pass to make it 14-7 at the break.
To start the scoring in the second half, Stevens made his interception and returned it 47 yards for a touchdown. The extra point attempt was missed, making it 20-7.
Benton cut into the lead with a pass that also converted a fourth-and-12 from the 33.
Bryant countered with a drive for another score, capped off by Howard's 13-yard keeper.
Nossaman followed up with his interception and, early in the fourth quarter, he capped off the ensuing drive with a 22-yard run to paydirt. A two-point conversion attempt failed and the Hornets led 33-14.
Johnson's interception and return for a touchdown added the finishing touches. With the extra point, it was 40-14.
Benton made one final drive for a touchdown to set the final margin.
The Bryant JV improved to 4-3 on the season. It was their second win in a row. On Monday, Oct. 24, they play their final game at home against Cabot.