For more photos from this event by Kevin Nagle, go here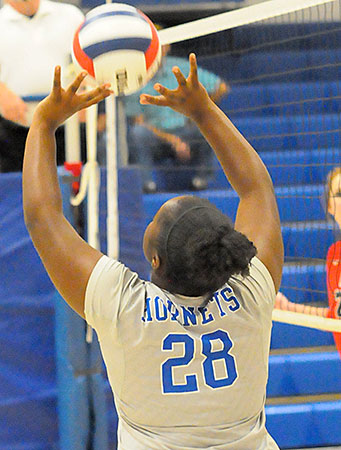 Ten different players had kills as the Bryant Lady Hornets' junior varsity team earned a 25-23, 25-18 win over the Cabot Lady Panthers' JV on Tuesday night.
Casey Welch led the attack with five kills. Macey Loudon had four and Grace Camferdam three. In addition, Imanii Jones and Ivory Russ had two apiece, Beatriz Hernandez, Ashley Davis, Cora Edwards and Shannon Stewart one each.
Davis also served up four aces as she got in all 13 of her serves. Hernandez was 9 of 10 at the line with three aces. Welch had three aces and Stewart two.
Jones led with 14 assists while Hernandez and Davis finished with three digs each. Stewart had two digs and Casey Welch one.
The Lady Hornets travel to North Little Rock on Thursday.