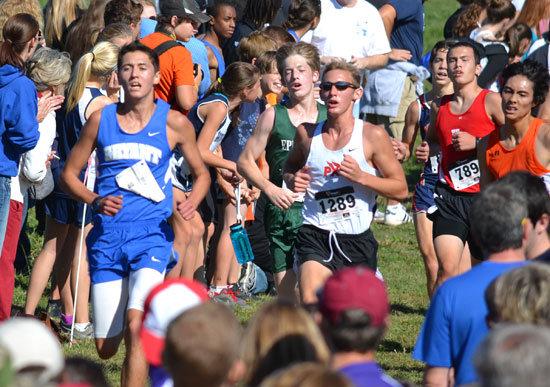 Photos courtesy of Lloyd Wilson
HOT SPRINGS — The Bryant Hornets ran one of their strongest races of the season so far on[more] Saturday in the Lake Hamilton Invitational cross country meet on the infield of Oaklawn Park in Hot Springs. The Hornets placed third out of 39 teams in the varsity boys division, scoring 132 points to finish behind only LR Catholic (57 points), and Parkway, La. (107).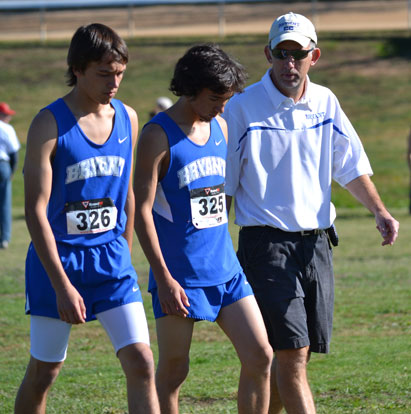 After the Hornets, the remainder of the top 10 teams were Russellville (157), Rogers Heritage (195), Little Rock Christian (199), Heber Springs (228), Lake Hamilton (233), North Little Rock (346), and DeQueen (350).
Sophomore Connor Wilson paced the Hornets, earning a sixth place finish in a new personal record time of 16:47 over the 5 kilometer (3.1 mile) course. Freshman Charlie Terry also earned a top 30 medal with an 11th place finish in a time of 17:00. The rest of the Hornets competing in the race, which was limited to each schools top 7 runners, were junior Tyler Purtle (35th in 17:43), junior Clifton Hampton (41st in 17:47), sophomore Nicholas Schmidt (45th in 17:52), sophomore Dru Wen (63rd in 18:15), and sophomore Jim Dellorto (103rd in 19:00).
"This was our best team performance of the season," asserted Hornets coach Steve Oury. "We had all five of our scorers under 18 minutes for the first time this year, and we beat some pretty good teams in the process.
"Connor Wilson and Charlie Terry did a great job of giving us a presence up near the front," he noted, "and then the rest of the guys battled really hard to keep the time gaps to a minimum. This will give us some confidence heading in to our conference meet in Rogers on Oct. 30th."

Junior Varsity

The remainder of the Hornets competed in the junior varsity division and earned a second place finish behind Catholic. The Rockets scored a total of 22 points, with Bryant (58), Parkway, La. (95), Haas Hall (122), and Heber Springs rounding out the top five teams. A total of 15 teams completed the race.
Spencer Adami was the first Hornet across the line, placing ninth in a time of 18:58. The rest of the Hornets top seven were Mark Winn (10th in 19:05), Blake Reed (13th in 19:11), Nathan Stewart (16th in 19:23), Austin Masters (17th in 19:33), Austin Middleton (37th in 20:10), and Dylan Masters (41st in 20:16).
"We competed hard and did a very nice job in the JV race," Oury said. "Our top five all placed in the top 17, so we have to be pleased with that. Thankfully, we will all get to compete together at the conference meet.