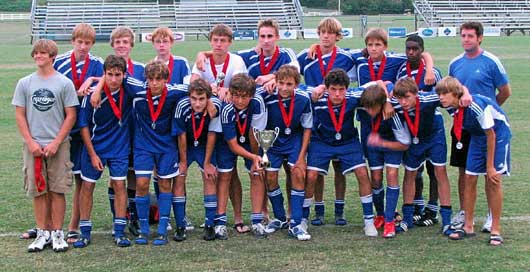 By KIRK STEWART
The Bryant Soccer Club United 92 18-and-under boys recently finished second at the Clorox Cup in northwest Arkansas, just behind the reigning state champions NWA Lightning.
This is no small feat considering most of the players are from u16 teams. The future is bright for Bryant soccer.
The team consists of Petey Alverio, Jeremy Anderson, Andrew Bethell, Jordan Byrum, Forrest Fowler, Brenden Guffey, Marshawn Hood, Joshua Lowery, Jonathan Lowery, Devon Norris, Christopher Oldfield, Alex Rowlan, Alec Salminen, Tyler Salminen, Chase Stuart, Justin Travis, Ryan Watson and Jesse Wolf.
BSC United 92 is coached by Ryan Spears.