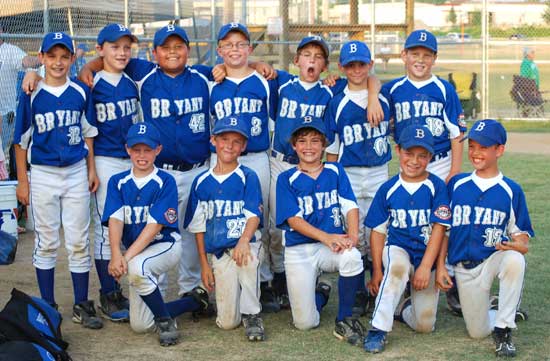 A 9-year-old team from Bryant took first place in their division in last weekend's Wally Hall Tournament of Champions in Benton.
The team members were Logan Chambers, Logan Grant, Nathan McFarland, Ryan Lessenberry, Cade Dupree, Coby Greiner, Logan Catton, Jake Cowell, Triston Day, Will McEntire, Sawyer Holt, and Garett Nguyen. The team was led by manager Michael Catton and coaches Phillip Dupree and Madison McEntire.[more]
In pool play, the team struggled in their first game and dropped a 6-3 decision to the Arkansas Assault from Benton and then lost a three-run lead in the final inning to settle for a 6-6 tie against Gorilla Axle, from Monroe, La. The loss made them the No. 8 seed entering the nine-team tournament.
On Saturday night, the team took their first game against Arkansas Attack (from Warren) behind a seven-strikeout performance from starting pitcher Dupree and three RBI and two runs scored by Cowell. The victory earned them an immediate match-up against the No. 1 seed, the Warhawks of Monroe, La. Although they managed just one hit, Bryant took advantage of nine walks and two errors by the Warhawks to post a 5-1 victory for starting pitcher Chambers who allowed three hits in four innings.
On Sunday afternoon the team returned to play the Magnolia Cardinals and advanced to the championship game with a 9-1 win as McFarland allowed just one hit (a solo homer) in three innings.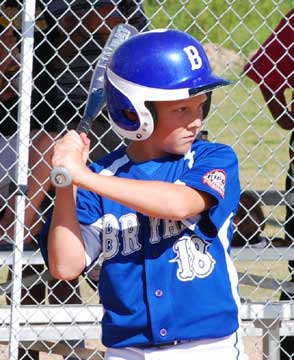 The final game against the Arkadelphia Green Sox was scoreless after one inning but then Bryant blew it open in the second by playing "small ball". Dupree led off with a single, stole second and then scored all the way from there on a bunt single by Catton. After Catton stole second, Greiner followed with another bunt single, with Catton taking third on the play. After Greiner swiped second, Holt followed with a sacrifice bunt that scored Catton and also plated Greiner when the Green Sox catcher failed to get back to the plate in time. Chambers later knocked in the fourth run of the inning with an infield single to the shortstop.
In the next inning, three more runs scored as a result of a hit-by-pitch, three more Bryant bunts and two Green Sox errors.
Staked to a big lead, starting pitcher Grant (who was named tournament MVP) cruised through the Arkadelphia line-up, throwing a no-hitter with only a walk on a 3-2 pitch in the third inning preventing him from hurling a perfect game.
In the top of the fourth, Bryant ended the game with an 8-0 run-rule victory as Chambers scampered home on a wild pitch.