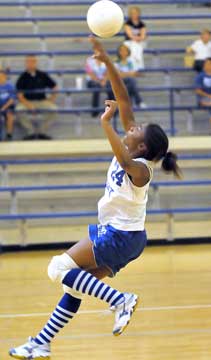 After one close call after another, the Bryant White Lady Hornets eighth grade volleyball team of Bryant Middle School broke through on Monday to defeat Cabot North, 25-16, 16-25, 15-9.
The team includes Mariah Aguilar, Jayla Anderson, Haley Collins, Claire Henderson, Madison Krick, Taylor Lindberg, Brittany McDonald, Makayla Nguyen, Alexis Parsley, Jessica Reese, Charli Sahr, Sarah Shepard, Abby Staton, and Jordan Tarvin.
"These girls have improved a lot since the first of the season," noted Lady Hornets coach DeAnna Ward. "We just have to stay focused and keep on working on the basics. We were a little sloppy last night but our serving kept us in the game."
To that end, Sahr was 7 of 9 from the service line, getting the Lady Hornets off to a fast start with the first six points. She had three aces in the first game. Anderson contributed points 11 through 17 going 6 of 7 from the line with two aces.[more]
In the last game, Parsley came in and served points 2 through 11, going 12 of 12 on her serves.
Lindberg contributed five kills. Staton added another to go with four assists.
Bryant White visits Benton on Thursday, Sept. 23.
Photos by Kevin Nagle