For more photos from this event by Kevin Nagle, go here.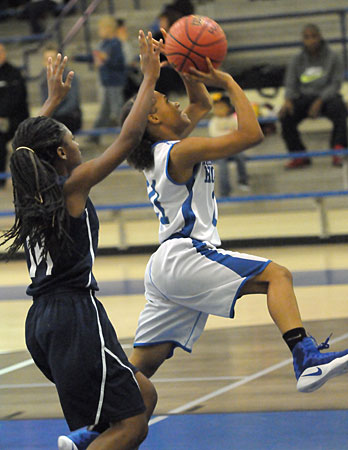 Kristyn Weng scored 16 points as the Bryant White Lady Hornets eighth grade team of Bryant Middle School overwhelmed the Lady Wolves of Lighthouse Charter School in Jacksonville on Monday night.
It was the Lady Hornets' fourth consecutive win after starting the season 0-2. They play next on Thursday against crosstown rival Bryant Blue of Bethel Middle School.
Kaitlyn Weng added 11 points, Sequoia Green had 5, Lauren Taylor 4 and Rachel Buck 2.
"Most of the shots we took fell," said Lady Hornets coach Ben Perry.
Bryant White built a 13-4 lead by the end of the first quarter and increased the margin to 24-7 by halftime.
"We stole the ball several times and our press helped create turnovers," Perry said. "The other team turned the ball over 26 times to our 12. We were able to steal the ball 16 times, which was nice and helped us with 29 points off turnovers."
Kaitlyn Weng had five steals. Jaiyah Jackson and Kristyn Weng each had four thefts. Ashlynn Oyemola stole the ball twice.
An 18-0 third quarter for Bryant White turned the game into a rout.
"We played well but need to clean up our unforced errors," Perry noted. "It was nice for our press to work but we still have to work harder on cutting the drive off.
"It was nice to have a game where everyone can get experience but we have a tough road ahead in which we will be challenged by great teams," he added. "I hope we continue to learn and grow each week."