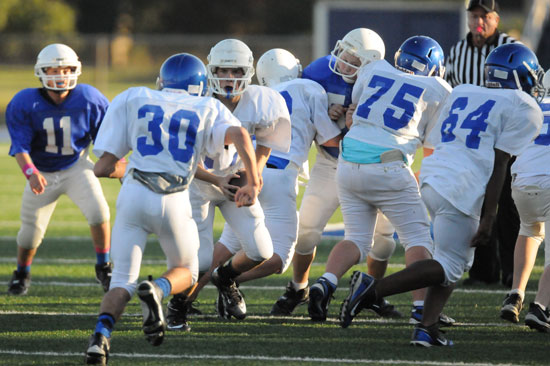 Photos by Kevin Nagle
Greyson Prince and Trey Wallace each had first-half touchdown runs as the Bryant White Hornets seventh[more] grade of Bryant Middle School built a 14-8 lead in the first half on the way to a 20-14 win over the rival Bryant Blue Hornets of Bethel Middle School on Monday night at Bryant Stadium.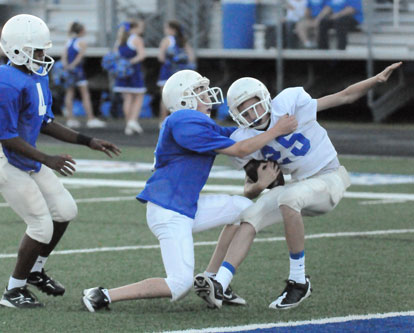 The teams came into the game with just one loss each. Bryant White thus finishes the season 7-1-1; Bryant Blue at 7-2.
Diante Woodson and Cameron Vail scored touchdowns for Bryant Blue.
Prince scored on a long run from near the 50 to get Bryant White on the board. Wallace plunged in from the 3 and Tristan Calhoun kept to tack on the 2-point conversion.
Woodson's 55-yard bolt came in the first half. Vail ran in the 2-point conversion.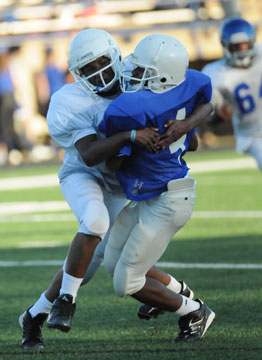 To start the second half, the White defense held after Blue drove to midfield. Jon Luke Sprout hauled in a pass from Calhoun to get the ball to the 1. Calhoun snuck it in from there to make it 20-8.
Blue came back with a length-of-the-field march for a final touchdown with Vail scrambled for the final 16 yards. Along the way, the quarterback completed a pair of passes to Matt Sandidge.
For Bryant White Brandon Hill contributed an interception and Jeffrey Glass recovered a fumble.