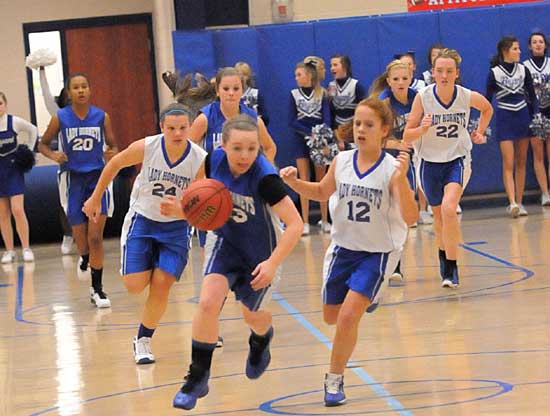 Photos by Kevin Nagle
The Bryant White Lady Hornets eighth grade team of Bryant Middle School ran its winning streak to[more] six games Monday night by outlasting the Bryant Blue Lady Hornets of Bethel Middle School, 25-17, on Monday night.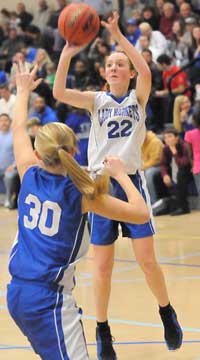 Skylar Davis led the victors with 10 points and three rebounds. Faith Brown added 4 points and six boards. Carolyn Reeves also had 4 points with Shayla McKissock, Julianna Ward and Lara White contributing 2 apiece. Ward had three rebounds and two steals. White collected two caroms and had a theft.
Britney Sahlmann led Bryant Blue with 7 points, eight rebounds and three steals. Kailey Nagle pitched in with 5 points with Anna Lowery and Annie Payton scoring 2 each. Ashlyn Taylor hit a free throw and pulled down four boards.
Bryant White led just 4-2 after a quarter then put together a big second period to extend the lead to 16-4. Bryant Blue rallied late after trailing 22-9 going into the final stanza.
"I was very pleased with our defense," said Bryant White coach DeAnna Ward. "We were able to put a lot of pressure on them early. We have been working on starting the game more intense and trying to get the quick lead.
"Most of our points come from steals and I want to see us run an offense better," she added. "We need to have a more balance attack.
"I knew it would be hard going to Bethel," Ward noted. "It is a tough gym to play in because of the crowd."
Now 6-1, Bryant White hosts Greenbrier on Thursday.Bryant Blue, now 5-5, has completed its pre-Christmas schedule. The next game for the Lady Hornets will be Jan. 5, at home against the Anthony School.