Photos by Kevin Nagle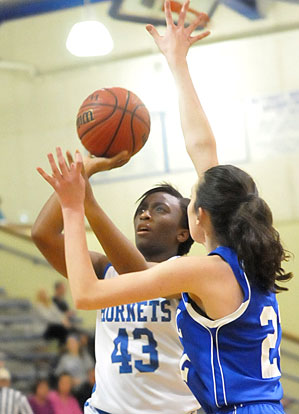 The Bryant White Lady Hornets eighth grade team of Bryant Middle School moved two wins away from an undefeated season with a 45-22 victory over their rivals and future teammates on the Bryant Blue Lady Hornets eighth grade team on Monday night.
Ivory Russ scored 6 of her game-high 13 points in the first quarter as White took a 13-5 lead. Jada Deaton hit a 3 for Blue.
Six different Bryant White players, led by 4 from Tyianna Robinson, contributed to the scoring in the second quarter as the lead grew to 29-14 by halftime. Casey Welch had 4 points and Lauren Heath knocked down a 3 for Bethel.
In the second half, White outscored Blue 16-8.
To go with Russ's 13, Bryant White got 9 points from Celena Martin. Robinson and Alivia Allen each had 6. Sierra Trotter and Mekeycia Baker scored 3 apiece. Kendell Scott and Yasmin Ott contributed 2 each with Madalynn Thompson adding a free throw.
Deaton led Bryant Blue with 7 points. Welch added 6. Heath had her 3 while Truli Bates, Natalie Harllee and Cali Rogers finished with 2 apiece.
Bryant White, now 14-0, plays at Lake Hamilton tonight then finishes the season against Cabot White on Monday, Feb. 8. Unofficially, Bryant Blue has completed its season.