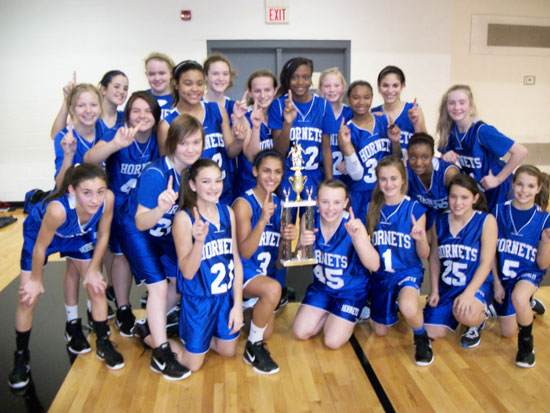 BAUXITE — The Bryant White Lady Hornets seventh grade team of Bryant Middle School captured the championship of[more] a tournament in Bauxite on Saturday with a 23-10 win in the finals over the rival Bryant Blue Lady Hornets of Bethel Middle School.
To get to the title game, Bryant White edged Jessieville 21-18 and Anthony School 29-28.
"I was very proud of the girls," said Lady Hornets coach DeAnna Ward. "They played very hard all day long."
In the title game, Destiny Martin finished with 9 points and seven steals. Hadley Dickinson scored 6 points with four rebounds and a pair of thefts. Jadyn Lewis finished with 4 points and two steals with a rebound. Kipperlie Davis led the team with nine rebounds to go with 2 points. Kennedy Harris collected seven boards and hit a free throw while Savannah Schulz had a point and three rebounds.
Against the Anthony School, Martin scored 13 points with six steals and two rebounds. Dickinson reached double figures with 10 points, adding seven rebounds and four steals. Reagan Blend finished with 6 points, three rebounds and four steals while Harris had four rebounds and two steals.
Martin had 13 points against Jessieville too. She also collected three rebounds and made three steals. Harris finished with 6 points, six boards and a steal with Lauren Lessenberry contributed the other 2 points. Dickinson made six steals and Blend had four to go with two rebounds.