Photos by Kevin Nagle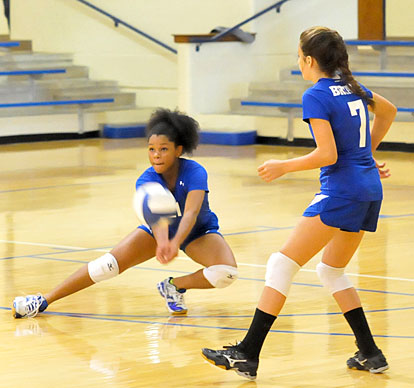 The Bryant White Lady Hornets eighth grade volleyball team of Bryant Middle School put together a strong performance in the first game of their match with Conway Blue on Thursday but a surge by the visiting Lady Cats carried the day. The Lady Hornets absorbed a 25-20, 12-25, 7-15 loss.
"The first set we played really well," said Bryant coach DeAnna Ward.
The Lady Hornets were good on 82 percent of their serves in the opener. Ivory Russ was 5 of 5 with two aces and Gianni Hulett was 5 for 6. Grace Camferdam and Russ each had two kills.
"We did not finish strong," Ward said. "We started getting sloppy and making a lot of mistakes. We lost our focus.
"We have some work to do before our next game," she added. "We have a lot of power and talent. We just have to be able to utilize it for the entire game not just one set."
Bryant White will return to action at Russellville on Thursday, Sept. 10.