EDITOR'S NOTE: This story about former Bryant Hornets kicker Travis Cockerham appeared in The Courier of Russellville a few weeks ago. The Wonder Boys conclude the regular season this Saturday, Nov. 7, at Harding in Searcy. Travis is the son of Tom and Brenda Cockerham of Bryant.
Saving His Best For Last
Travis Cockerham kicking his best during senior year — now he's punting, too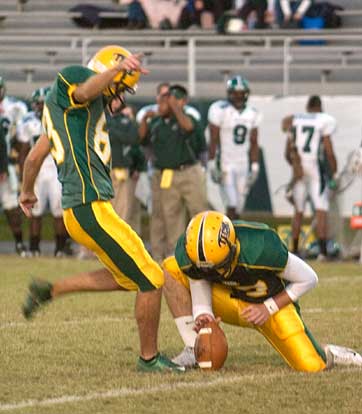 By Sean Ingram
sportseditor@couriernews.com
RUSSELLVILLE — Finally, things are going Travis Cockerham's way. The senior kicker-punter is proof whether you're facing adversity in the classroom, in your personal life or on the football field — never give up. Keep on fighting.
A year ago, all indications were Arkansas Tech University's football team had some questions about its kicking game. All-American punter Michael Podobnik was called upon to hit short-range field goals and kick point-after touchdown (PAT) tries for the Wonder Boys, who return to Thone Stadium at Buerkle Field to face the Southern Arkansas Muleriders at 6 p.m. Saturday.
Head coach Steve Mullins said he talked with offensive coordinator Scott Preston when Tech was inside the 25 or so and didn't say field goal but asked, "How can we get into the end zone or get a first down?"[more]
When Mullins was asked about his No. 1 concern coming out of spring practices, he said quickly, "kicking game."
He brought other kickers and punters into preseason camp. But Cockerham not only won the kicking job, but he earned punting responsibilities as well.
The result?
The senior's only one missed field goal — he was 6-of-7 after five games, his longest 37 yards — at the hands of third-ranked North Alabama last week.
Cockerham hadn't missed a point-after kick in 22 tries. Mullins said the senior had "maybe one bad punt" where the football didn't go inside the 20.
"The season has been good," Cockerham said. "I've got a nice supporting cast, a new holder this year, (Kevin) Puckett. I'm happy with him. It's amazing how much of a difference that can make — just having someone there who just listens to you. I've had some guys who have been on the kicking team (a long time), like Chris Warden, who continue to work hard. It's going good so far. Hopefully it will keep going. I think it will."
Cockerham, a management and marketing major with a minor in art, explained he likes the double duty because it keeps him warm and loose on the sidelines. It's also gotten his mind off solely kicking. He's enjoying punting because this is literally the first football season he's punted the football.He's also glad he won the punting job because, honestly, he didn't know if he was going to be the kicker.
"Since he (Mullins) brought in some new kickers, I expected coming into this season if they showed they were good enough, he would just put them in instead of me," Cockerham said. "But I won the position again. He put the best player at that position. It shows he goes year by year and doesn't look back on the past.
"I would say just starting from the first couple of kicks, they went in. I even had one I didn't feel good about, but I kicked it and it went in. It's been that kind of change. And our line has just been blocking. I think one of the biggest misconceptions was that I wasn't kicking good. Last year (1-for-4, longest 32 yards) was the best year I had. This year I have a good holder, a good line that's blocking for me. That's good."
Many Tech seniors talk about the offseason workouts they conducted to prepare for the 2009 season. The Wonder Boys may not be able to win the Gulf South Conference championship — unless North Alabama simply implodes — but they still can achieve a winning season and nab a spot in the NCAA Division national playoffs.
Cockerham said his offseason was the best he's had because he was motivated by his wife of more than a year, Jennifer, also a Bryant native. He's also gotten some great moral support from his parents, Brenda and Tom Cockerham.
The kicker/punter said his father has attended every Wonder Boys football game in his career.
"It's been great, especially in the offseason because someone was there in the morning when I said, 'Man, I do not wanna go (work out) this morning,' and she said, 'Go ahead. It's your last year. You're almost done.'"
Cockerham said. "She's definitely not my worst critic. She can put a positive spin on everything. My dad is probably my worst critic. Obviously, any player just wants to do his best for the team."
It may appear a kicker or punter is all alone on the football field, waiting for success or disaster based upon how or where he kicks the football. But Cockerham pointed out everything starts with the blocking by the line, the snaps of the ball to the holder, and the placement by the holder or his hand placement when he's punting.
"We introduced the rugby punt (last weekend), just to throw them (UNA Lions) off," the senior said. "I loved the decision. I think they blocked four punts earlier in the season, so we were worried about that. But the line did great again. I didn't feel pressured at all. I haven't felt pressured really at all this season. Our ready squad gives us more pressure than what we've seen. I was worried in preseason, because our ready squad was getting through easy.
"I decided I wasn't really going to worry about any kind of statistics and stuff, and I've been happy to just help the team out. I definitely do want to get that big punt. I just want to stay consistent. I want to go out on a positive note. I just want to do the best I can for the team. I would love to stay at the top of the stats in the GSC (Gulf South Conference), mostly for my family. They love seeing my name up there. I like to see it, too."
Mullins said he couldn't be more proud of the Bryant native.
"He's had a great turnaround," the 13th-year coach said. "We preach every day about handling adversity in the classroom, in your personal life, on the football field. When those things come along, you can't just give up. You don't need to give up. You've got to keep fighting.
"Travis has had some highs and lows since he's been here. Not only has he turned himself around as far as extra points and field goals, but he's turned around and is doing an outstanding job punting."
Cockerham joked he's actually responsible for one statistical category where Tech's offense leads the nation.
"This year, the craziest thing has been our third-down conversion rate," Cockerham said. Tech leads NCAA Division II in third-down efficiency with 48-of-80 successful third downs converted to first downs (60 percent). It's also tied for the best in the Football Bowl Subdivision (FBS) with Brigham Young University.
"What I decided is I punt twice in the net, put my helmet on, then we get a first down," Cockerham added. "I decided I'm really the head of the offense."