Photos by Kevin Nagle
PEARCY — After a tight first half, the Bryant Lady Hornets freshman team outscored the[more] White Hall Lady Bulldogs 24-1 in the second half on the way to a 32-8 win in the weather-delayed Kameron Hale Invitational Tournament at Lake Hamilton High School.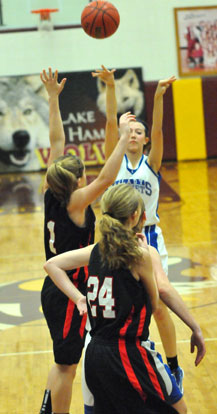 The Lady Hornets are set to play Arkadelphia in a semifinal game today at 3 p.m., with the winner advancing to the championship game Monday at noon.
Nine different players contributed to the scoring for Bryant, led by Skylar Davis' 8 points. Britney Sahlmann, Peyton Ramsey and Annie Patton finished with 4 each while Rachel Miller and Kailey Nagle had 3 apiece. Sarah Bullington, Kara Moser and Taylor Hill pitched in with 2 each.
The game was tied 4-4 after a quarter and White Hall led 7-6 at the half.
"You could tell the first half that we had a long layoff for Christmas break and then could not practice because of the weather," said Lady Hornets coach Nathan Castaldi. "We were sluggish and trying to find our shot. (White Hall) sat back in a zone and we were getting good shots, they were just not falling.
"Britney kept us in the game the first half," he noted. "She played great defense, rebounded well (both offensively and defensively) and had all her points."
The second half, the Lady Hornets heated things up offensively, sparked by Nagle.
"She started it off with a 3 off a set play," Castaldi noted. "I was proud that they executed it after such a long time away.
"Then Anna Lowery got a steal and fed Skylar for a layup," he continued. "Then Skylar hit back to back 3's. That made White Hall get out of their zone and play us man, which took them out of their game. We were able to execute our man offense and shoot layups the rest of the way.
"I was really proud of how all the girls played after not being able to practice," the coach concluded. "They all played hard and executed what we planned to do."