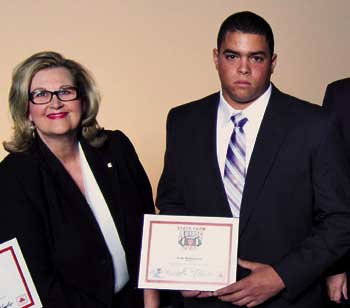 LITTLE ROCK – Conway's Marquez Massey beat out Bryant's Josh Hampton and Searcy's Mike Brown for the annual State Farm Award for defense in Class 7A/6A.
All 45 finalists from Wilson to Mansfield and from El Dorado to Bentonville drove Monday night to Little Rock for the seventh annual State Farm Awards.
Fifteen winners were announced during a video extravaganza at the Aerospace Education Center/IMAX Theater.
Hampton was the leading tackler for the Hornets who went 9-3 on the season and shared the[more] 7A-Central Conference championship with Conway and Cabot.
The State Farm Awards honor Arkansas' top offensive player, defensive player and coach of the year for each classification during a special ceremony catered by Market Place Grill. The veteran staff at Hooten's Arkansas Football selects three finalists for each category, and those finalists are invited to attend the State Farm Awards.
State Farm agency director for Central Arkansas Jamie Eagles told the finalists with their families: "You give your best every week, every day. State Farm is proud to sponsor an event that recognizes that effort and rewards it."
State Farm has a strong, long-standing commitment to supporting education and community involvement and is proud to honor Arkansas' finest young athletes.
2010 STATE FARM AWARDS
7A/6A FINALISTS(winners in CAPS)
OFFENSE
BRANDON ALLEN, Fayetteville
Ryan Luther, Har-Ber
Taylor Reed, El Dorado
DEFENSE
MARQUEZ MASSEY, Conway
Mike Brown, Searcy
Josh Hampton, Bryant
COACHES
SCOTT REED, El Dorado
Mike Lee, Van Buren
Barry Lunney, Bentonville
5A FINALISTS
OFFENSE
BRANDON KEATON, Camden Fairview
Brian Handley, Monticello
Isaac McCoy, Alma
DEFENSE
MATTHEW SHOWALTER, Batesville
Chris Hampton, Mills
Marco Vota, Greenwood
COACHES
BUCK JAMES, Camden Fairview
Patrick Russell, Mills
Jared McBride, Hot Springs Lakeside
4A FINALISTS
OFFENSE
KIEHL FRAZIER, Shiloh Christian
Evain Hill, Pulaski Robinson
Talor Tatterson, Booneville
DEFENSE
SAMUEL HARVILL, Shiloh Christian
James King, Malvern
Dirk Tanner, Pulaski Academy
COACHES
BRYAN RUST, Pottsville
Blair Brown, Star City
Chris Dufrene, Clinton
3A FINALISTS
OFFENSE
STEVEN KEHNER, Glen Rose
Raphael Caldwell, Rison
Zach Davis, Harrisburg
DEFENSE
SETH KEESE, Harding Academy
Logan Genz, West Fork
Ryan McDonald, Charleston
COACHES
KELLY CHANDLER, Rivercrest
Jason Gill, Mansfield
Roddy Mote, Harding Academy
2A FINALISTS
OFFENSE
RODREA JONES, Spring Hill
Rodney Larry, Junction City
Jason Ware, Mineral Springs
DEFENSE
TYE KIBBONS, Bigelow
Alan Holmes, Bearden
Josh Scott, Magnet Cove
COACHES
JOSH JONES, Magazine
D.J. Crane, Danville
Vince Perrin, Mineral Spring