EDITOR'S NOTE: BryantDaily.com welcomes all political candidacy announcements. We will attempt to run them with a minimum of editing. We encourage voters to be discerning.
William Burgess has announced his candidacy for the Bryant City Council, Ward 2, Position 2.[more]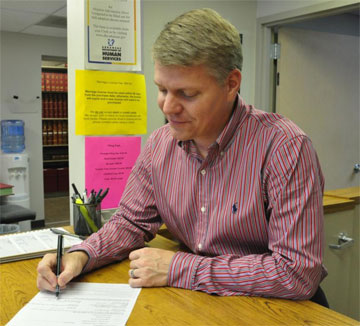 Burgess, 38, currently works for Power Technology, Inc., as the Vice President of Operations. He is a graduate of the University of Arkansas at Little Rock (UALR), with a Bachelor's of Science degree in Electronic Engineering Technology and is currently earning his MBA.
"As a 14 year resident of Bryant, I have spoken with many of my neighbors about their water bills. They tell me their water bills are way too high. They can't continue to accept increases year after year" said Burgess. "I want to find ways keep water bills affordable."
Burgess plans to bring professionalism and mutual respect back to the city council. "I firmly believe that city council members can disagree without being disagreeable," he said, adding that his focus will be on solving issues affecting the city and not on personal distractions. "Bryant is a great city that has achieved a lot over the last few years. Our city should be known for its successes, not its failures."
Locally, Burgess attends Fellowship Bible Church (Saline county campus) where he serves on the technical team. He has also volunteered time with Habitat for Humanity. He has been married to Melissa Burgess for 18 years. They have two daughters, Katie and Natalie, who both attend Bryant Public Schools.
Burgess began working at Power Technology in 1995. He has held various positions including Quality Manager, Production Manager and now Vice President of Operations. In this position, he oversees all aspects of operations including Production, Quality Control, Accounting and Export activities. He is a member and Vice-Chairman of the Arkansas District Export Council which encourages local companies to start or expand their export activities. His appointment to this position was made by the Secretary of Commerce. Burgess was instrumental in Power Technology's recent receipt of the 2011 Governor's Awards for Excellence in Global Trade. So far this year, Power Technology has exported to 21 countries and over 40 countries in the last decade.
Burgess has experience in both Export Administration Regulations (EAR) requirements and International Traffic in Arms Regulations (ITAR). Since 2005, he has been a member ANSI Z136 ASC and the ANSI Z136.1 Committee for Safe Use of Lasers. In May of 2012, he participated in Trade Winds Asia. Trade Winds Asia is an official U.S. Department of Commerce multi-sector trade mission to Singapore, Vietnam, Malaysia, Thailand and Indonesia. Most recently, Burgess was selected as one of Little Rock's "40 under 40" and is a member of this year's class of Leadership Greater Little Rock (Class XXVII).