Photos by Kevin Nagle
CABOT — The Bryant Lady Hornets freshman team's scoring struggles returned Monday night and[more] it didn't help they were playing the Cabot South Lady Panthers on their home floor.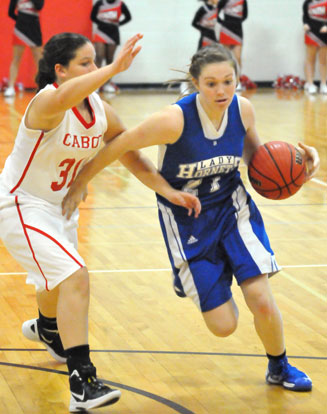 Cabot South ran out to a 10-2 lead in the first quarter and never relented on the way to a 44-15 win.
"We knew going in we were probably playing the best team in our conference and, from top to bottom, we did not show up and compete," stated Lady Hornets coach Nathan Castaldi. "We have to do a better job of matching their aggression the next time we play."
That'll be Jan. 28 when Bryant hosts Cabot South. That game, unlike Monday's game, will count in the Central Arkansas Junior High Conference standings.
"We got off to a slow start and could never get going," he added. "We did a little better job in the second quarter but still struggled to score. They played a physical defense that took us completely out of what we were trying to do offensively. We turned the ball over a bunch in the second half, which led to easy baskets for them on the other end."
Bryant trailed 20-8 at the half and 28-10 going into the fourth quarter.
Britney Sahlmann and Rachel Miller each scored 4 points for the Lady Hornets. Anna Turpin, Hailey Gentry and Kailey Nagle added 2 each. AnneMarie Keith pitched in with a free throw.
The Lady Hornets are set to travel to North Little Rock this Thursday.