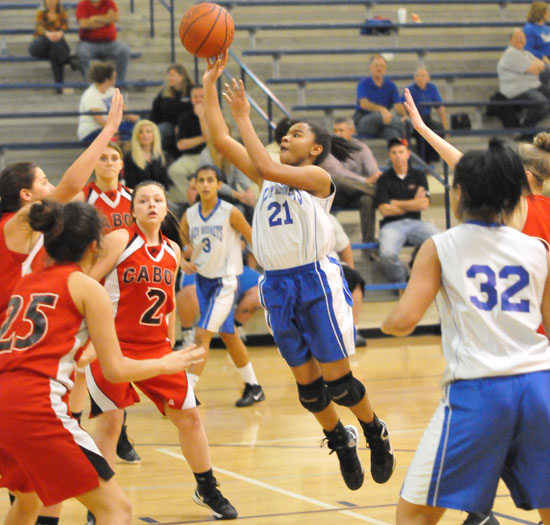 Photos by Kevin Nagle
By Rob Patrick
The Cabot South Junior High Lady Panthers hit a trio of 3-pointers to highlight a[more] 17-0 start against the Bryant White Lady Hornets eighth-grade team of Bryant Middle School Monday night on the way to a 49-18 win.
The Lady Hornets trailed 19-2 at the end of the first quarter with their lone basket an 18-foot jumper by Abby Ostrem.
The lead was 21-3 before Desiny Martin and Jadyn Lewis hit free throws. Lewis followed with a 12-foot bank shot that found the mark to cut the margin to 21-8. But Cabot South scored two late baskets to make it 25-8 at the half.
Martin added two more free throws to start the second half but Cabot South then held Bryant White scoreless the rest of the third quarter. The Lady Panthers extended the margin to 39-10 going into the fourth quarter.
After a basket to start the final period added to the lead, Bryant White's Reagan Blend drained back-to-back 3-pointers to make it 41-16 with 4:33 left in the game.
But Cabot South closed the game out with an 8-2 run interrupted only by a basket inside by Kipperlie Davis.
Blend led the Lady Hornets with 6 points. Lewis added 4, Martin 3. Ostrem and Davis each added 2 and Kennedy Harris hit a free throw.
The Lady Hornets are set to close out their season this Thursday, Jan. 31, against Lighthouse Charter School. The game will be played at Bryant High School gym.