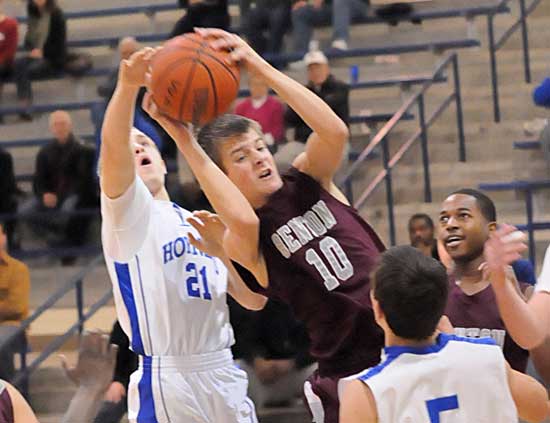 Photo by Kevin Nagle
The final four of the Central Arkansas Junior High Conference begins this evening with the[more] boys games at the Bryant High School gym and the girls at the Bryant Middle School gym.
So far, things have gone according to the seedings with the top four seeds in both the girls and the boys brackets advancing. There have been no upsets. Tonight's boys games pit the second-seeded Conway White team against third-seeded North Little Rock at 5 p.m., then top-seeded Bryant will take on fourth-seeded Little Rock Catholic, a team the Hornets were unable to defeat during the regular season, losing a non-conference game against the Rockets at home then losing the league contest at Catholic.
In girls action, undefeated and top-seeded Conway White takes on fourth-seeded Benton at 6:30 after No. 2 seed Cabot South takes on No. 3 seed North Little Rock at 5 p.m.
Championship games will be played on Saturday afternoon.
Here are the brackets:
CENTRAL ARKANSAS JUNIOR HIGH CONFERENCE
Championship Tournament
At Bryant
BMS, Bryant Middle School gym
BHS, Bryant High School gym
Thursday, Feb. 9
Game 1 — Mount St. Mary (8) 33, Bryant (9) 28 (girls), BMS
Game 2 — Benton (8) 40, Cabot North (9) 22 (boys), BMS
Saturday, Feb. 11
Game 3 — Benton (4) 28, Conway Blue (5) 27, (girls), BHS
Game 4 — Little Rock Catholic (4) 46, Conway Blue (5) 39, (boys), BMS
Game 5 — North Little Rock (3) 49, Cabot North (6) 40, (girls), BHS
Game 6 — North Little Rock (3) 39, Cabot South (6) 33, (boys), BMS
Game 7 — Cabot South (2) 41, Lake Hamilton (7) 34, (girls), BHS
Game 8 — Conway White (2) 52, Lake Hamilton (7) 44, (boys), BMS
Game 9 — Conway White (1) 50, Mount St. Mary 9 (girls), BHS
Game 10 — Bryant (1) 38, Benton 15, (boys), BMS
Thursday, Feb. 16
Game 11 — North Little Rock vs. Cabot South, 5 p.m. (girls), BMS
Game 12 — North Little Rock vs. Conway White, 5 p.m. (boys), BHS
Game 13 — Benton vs. Conway White, 6:30 p.m. (girls), BMS
Game 14 — Bryant vs. Little Rock Catholic, 6:30 p.m. (boys), BHS
Championship games
Saturday, Feb. 18
Game 15 — Game 11 winner vs. game 13 winner, noon (girls), BMS
Game 16 — Game 12 winner vs. game 14 winner, 1:30 p.m. (boys), BMS