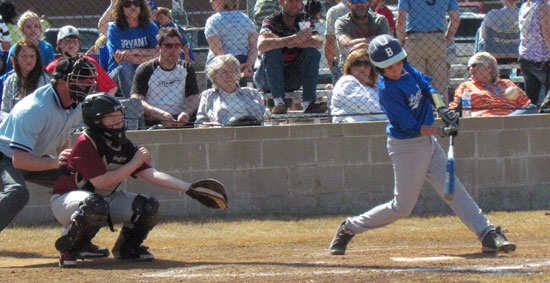 EDITOR'S NOTE: All youth teams are welcome to submit scorebooks with rosters to rob@bryantdaily.com for game reports.

Photos courtesy of Lara James
With a run in and the potential tying tallies on base, Logan Chambers came in to record the final[more] out on a comebacker to the mound as the Dodgers (Lee James Agency) held on for a 6-4 win over State Farm Insurance on Saturday at Bishop Park.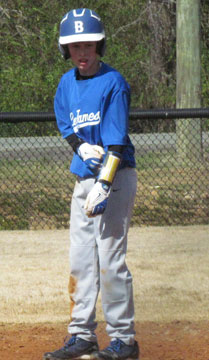 The win improved the Dodgers to 4-1 in the Bryant Athletic Association Cal Ripken 11-12 year old Blue League.
Trailing 6-3, State Farm came up in the top of the fifth. With one out, a double to center by Jacob Coppock ignited a rally. He took third on Colby Greiner's long fly to right then Will McEntire came through with an RBI single to left. Jaden Foster followed with a base hit to right, which resulted in the pitching change. Chambers' first pitch was tapped back to the mound to end the game.
Coppock had two hits in the game including a single in the first. He stole second but was stranded.
For the Dodgers, Rhett James had three hits and Chambers two. Each had a triple in the first when LJA took a 3-0 lead. Logan Catton led off with a single to center and stole second then raced home when James hit a drive to right-center for a three-bagger. Chambers, on the next pitch, sent one to the fence in right for his triple, making it 2-0. He would scored on a passed ball before Austin Cook cracked a two-out single to left.
Cook swiped second but was stranded as Greiner regrouped and ended the inning with a strikeout.
Zack Wells, the Dodgers' starter, surrendered a one-out single to Jacob Shepard in the top of the second but, after a stolen base and a groundout got Shepard to third, he was stranded as Drake Wilkerson bounced out to Tristen Hammonds at second.
LJA tacked on an unearned run in the bottom of the inning. Wells reached on an error and Hunter Stallman sacrificed him to second. A stolen base got Wells to third where, after a Greiner strikeout, James cracked a 2-2 pitch to center for an RBI double.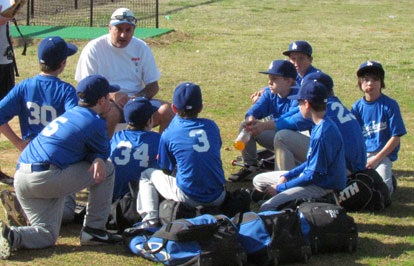 Greiner forced the Dodgers to strand James when he got a 3-2 pitch past Chambers for an inning-ending strikeout.
State Farm got it going offensively in the third, trimming it to 4-3. A walk to Chandler Taylor got the uprising started. He went to second on a wild pitch and scored on a base hit up the middle off the bat of Josh Prather.
Another wild pitch allowed Prather to take second then he went to third on a base hit to right by Hunter Mullins. Coppock's grounder to short resulted in a force at second but he picked up the RBI and when Greiner singled to left and McEntire reached on a two-base error, it was 4-3.
The Dodgers got one of those runs back in the bottom of the third. With one out, Hunter Ulmer reached on an error, stole second, took third on a grounder to the right side by Cook and scored when Hammonds reached on an error.
The fourth inning started with Austin Trimble drawing a walk for State Farm. He took second on a wild pitch and advanced to third on a one-out grounder to the right side by Taylor but James, the second Dodgers' hurler, induced a pop up to Hammonds at second to end the threat.
And the Dodgers added an insurance run in the bottom of the frame. After Trimble, the State Farm reliever, struck out the first two in the inning, James singled to center and Chambers shot a base hit to right. An error on a grounder by Ryan Taylor allowed the run to score before Trimble escaped by inducing a fly to left, forcing the Dodgers to leave runners at second and third, and setting up the dramatic finish in the top of the fifth.