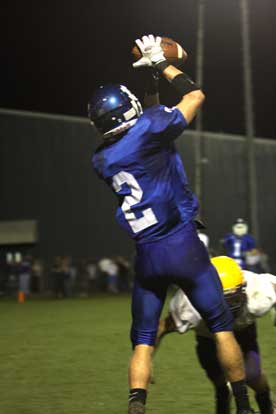 By Rob Patrick
Bryant head football coach Paul Calley was reflecting on his team's impressive 21-13 win over the fourth-ranked Little Rock Catholic Rockets on Friday night: "I can't overstate how important the crowd was. Every time we needed a lift they were on their feet, going wild. They were awesome. We couldn't hear on the sideline. We were trying to talk to the kids during the change of possession and nobody could hear. That's how loud it was."
It was as good an atmosphere for a high school football game in Bryant as there has ever been. The house was packed and the football was contested to the nth degree.
Though there are still plenty of challenges ahead, Calley wouldn't play down the importance of the outcome either.
"The kids saw and heard what was being said in the media, that we're unproven and untested because of the teams that we have played," the coach acknowledged. "I'm sure in the back of their minds they had the same questions. I think now we put that to rest. We are tested. I told them that right after the game. We were tested and we came through."
It's about confidence.
"With us, the type of players we have, we're not big and strong, we're small and we're fast," Calley explained, "and you realize that you can play with those bigger, stronger teams because you can make up for lack of size with speed. I think (Friday night) that was evident."[more]
It also reinforces what the coaches teach about technique and execution and effort and responding positively to the inevitable adversity.
"Our guys are familiar with the past," he continued. "They know we've always beaten teams we probably shouldn't have or weren't supposed to and it just reaffirms that with them. That we can do it and, more times than not, we're going to do it.
"To me, it was a complete performance," Calley asserted. "Typically, defensively, we give a lot but when teams get in the red zone, we don't allow a lot of points. That's the way we've always been.
"We were fortunate enough to get some stops and then, offensively, even if we didn't score on a drive, we were able to flip the field to put them in a situation where they had to drive the length of the field," he mentioned. "We knew it would be a field-position game."
The Hornets had just one three-and-out possession in the contest and sophomore Jace Denker, utilizing a rugby kick (basically a running kick), did his job to help turn the field over.
Ironically, his only short kick came after the only three-and-out late in the first half. Catholic, trailing 14-7 at the time, wound up with its best starting field position of the game (at its own 47) and drove to the Bryant 14. A sack by defensive end Ryan Cox of Rockets' quarterback Taylor Bartlett that was added to by a grounding the football penalty helped thwart the drive. On the next play, safety Stanley Oxner broke up a pass at the goal line and, on fourth down, cornerback Dylan Blasi followed suit at the front left corner of the end zone as the Hornets held with :28.2 left in the half, preserving the lead.
"Once the first series got over, we just kind of woke up," said Bryant defensive coordinator Steve Griffith, referring to the Rockets' opening touchdown drive. "We got kind of re-focused and we played extremely well throughout the first half. Then we got challenged a number of times in the second half.
"Guys just kept stepping up and making plays," he added. "We had Stanley make a big play down there towards the end zone. Dylan Blasi who we had in there with Tolbert out, made a couple of big plays down in the corner. And then you had guys up front starting to put pressure on the quarterback. Cox had the sack right before the half.
"It was just a variety of guys," Griffith noted. "It's a team effort. That's what we talk to the guys about all the time, playing team football. And if you all do your job, we're going to come out okay."
Besides that possession, the Rockets' average starting point in the game was their own 28.
"We bent all night long," Calley said. "And when we had to, we held."
Catholic drove 70 yards for a touchdown to start the second half but a bad snap on the extra point helped the Hornets break through and block the kick, preserving a 14-13 advantage.
It also was a factor, Calley surmised, later in the game when the Rockets drove from their own 35 to the Bryant 2 with about eight minutes left in the game. A fumbled snap cost Catholic on a third-down play and the Rockets went for 3. And though it looked like the kick was blocked, it was just miss-hit.
"The blocked extra point was huge," Calley emphasized. "It put them in a situation where they felt like all they needed was a field goal. We were tired (on defense). They fumbled that snap and because of that (blocked extra point) they needed at least a field goal to take the lead."
In other words, the Rockets couldn't afford to go for it and get stopped because they were behind. If it had been tied, they could've taken the risk, knowing that the worst-case scenario was overtime if their defense could hold.
"I was scared they were going to go for it," Calley admitted. As tired as we were, I don't know if we could've stopped them. Fortunately, they did go for the field goal.
"Coach Griff said (after looking at the video) we did not get a piece of it," he noted. "(The kicker) just shanked it. We got a lot of pressure and the blocked extra point was probably in the back of his mind. I know he had to be thinking about it."
Bryant took over at its own 20 with 7:42 left to play. But before the offense came onto the field, Calley gave them instructions.
"We knew we had to keep the ball on the ground," he related. "I said, 'Guys, we have to have two first downs to give our defense a chance to rest.' If we put them back out there right away, we weren't going to stop (Catholic's offense). We were physically drained after that last drive."
Calley, of course, got more than two first downs from his squad. In the face of a stacked Rockets' defense against the run, they pounded to the 16. The big play coming on a third-and-6 from the Rockets 46 in which tailback Chris Rycraw slashed and dashed 37 yards to the 17, perhaps the biggest of his 33 carries on the night and 219 yards.
"The line came through," Calley acknowledged, "and Chris, watching it on film, he probably made 25 yards after contact on that drive. He made people miss him, took people with him, two or three at a time."
The Hornets still faced a third-and-9 at the Rockets' 16 with 3:23 to play. A field goal would extend the lead but Calley said that wasn't really in the plans.
"On second down, I told Coach Griff, 'I don't think I want to kick a field goal,'" he recalled. "I'd pretty much made up my mind, we were going to go for it. We were going to try the pass on third down because (offensive coordinator) Coach (Dale) Jones thought we had it set up. So we were going to take a shot at the end zone and then we were going to run it to at least get the clock moving and make them use a timeout.
"I just didn't want to kick off to them," he explained. "I would rather have them deep in their own end and have to go further than kick off and risk a good return and giving them 40 or 50 yards to go rather than 80 or 90."
As it turned out, Jones was right and quarterback Jimi Easterling hooked up with Brandon Parish for a game-clinching touchdown when Parish got solo coverage and, on his break to the flag, the defender stumbled.
After the game, Easterling said even if the defender hadn't fallen, he was going to put the ball up for his receiver and let him go get it.
Offensively, Bryant used more scripted plays at the outset than usual (20 or so rather than 10). Because of the constant movement of the Catholic defense in its effort to confuse the offense, the Hornets also set out to use a variety of formations from which to run their plays. Basically, the Hornets experimented until they figured out how the Rockets would react to the various formations.
"We had a lot of formations scripted so that we could try to determine the (defensive alignment) that we could execute our offense the best against, to know where people were and get them blocked," was how Calley put it. "We had some success when we kept them balanced. It was two tight ends and two flankers but then we had some injury problems and fatigue problems with guys playing both ways, so we ended up going to the tight end to one side and a slot, Dylan Pritchett, to the other side with two flankers.
"That also allowed us to get an extra blocker at the point of attack," he continued. "So, if we could keep them balanced where we could get a hat on a hat, where we could account for everybody with an extra blocker in there with Dylan, we could run the ball."
Actually, tight end Tyson Abernathy aggravated a previous knee injury and, as it turned out, he was able to come back to finish the game when Blake Heil and Josh Hampton, starters on defense as well as playing tight end, got worn out.
"The offensive line played really well," Calley reiterated. "We had a couple of times on (quarterback) Jimi's passes, he got hit as he threw the ball but they were sending more than we could block. Everybody had a person, we just couldn't pick them all up. But Jimi stood in there and delivered when he had to.
"We had some big completions," the coach said regarding the 5 of 11 passing for the night, with those five completions accounting for 103 yards or an average of 20 yards apiece. "We had some other passes that we just didn't hit, sometimes due to pressure, sometimes we didn't run a route correctly.
"And the thing, still, I was disappointed in offensively was penalties," Calley added. "We had several key third-down conversions that were nullified by penalties. Then, we would have something going, we'd get one on first down that put us in first and long and we don't overcome that."
The Rockets and quarterback Taylor Bartlett (20-of-32, 210 yards) were impressive on offense for much of the night including a 61-yard touchdown march on its first possession. But the Bryant defense, Griffith said, got better as the game went along.
"We wanted pressure but we also wanted to be able to contain," he said. "We felt like we had to get pressure on him. We couldn't let him sit back there. At the same time, once he gets to scrambling, the guys had to work to keep him under control.
"For the most part, we did okay," Griffith continued. "I mean, he's just elusive. He's going to get away. That's what makes him so good. Then once he does, he's a very accurate passer. You know, if he was 6-foot-3, people from all over the country would be after him because he's just very accurate and he keeps his head about him.
"He's an outstanding quarterback and that's a good football team," Griffith concluded referring to the Rockets. "They're going to win a lot more games down the road and we expect to too."
The Rockets jump right back into the heat of the 7A-Central Conference race at home against Cabot, the defending league champ, on Friday, Oct. 2, while the Hornets travel to Van Buren. The Pointers are coming off their first victory of the season, 28-24, over Little Rock Central.
7A-CENTRAL
CONFERENCE STANDINGS
Conf Ovl
BRYANT 1-0 4-0
Cabot 1-0 4-0
North Little Rock 1-0 3-1
Van Buren 1-0 1-2-1
LR Catholic 0-1 3-1
Russellville 0-1 2-1-1
Conway 0-1 1-3
LR Central 0-1 0-4
Friday, Sept. 25
Bryant 21, Little Rock Catholic 13
Cabot 38, Conway 21
Van Buren 28, Little Rock Central 24
North Little Rock 28, Russellville 21
Friday, Oct. 2
Bryant at Van Buren
Cabot at Little Rock Catholic
North Little Rock at Conway
Little Rock Central at Russellville
Friday, Oct. 9
Russellville at Bryant
Cabot at North Little Rock
Conway at Little Rock Central
Little Rock Catholic at Van Buren