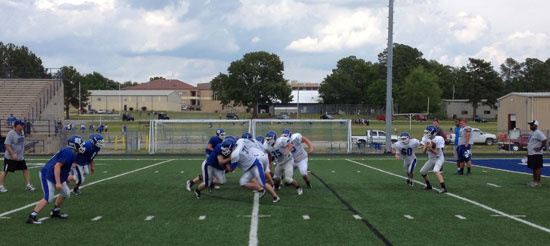 By Rob Patrick
After the first two days of spring football practice in pads, the Bryant Hornets reviewed[more] video of their work today. Going into the sessions, head coach Paul Calley was asked what he thought and echoing his post-practice address to the team, he emphasized the value of the team's hustle.
"We're still making mistakes right now but at least we're going full speed," he related. "Those are things that are correctible. It's a lot of little things, false steps, bad steps, improper angles, we've got our eyes in the wrong place. But it's going to come with reps. We'll get better as we go.
"We're throwing and catching the ball decent," the coach observed. "We're still in thump-mode. We're not taking people to the ground so I don't know about the tackling. I don't think we've been in real good positions to tackle but I think the defense is still adjusting to some things that Coach (John) Wells and Coach (Steve) Griffith are throwing at them. They'll catch up with (the offense) next week.
"There's some questions we've got to answer," he continued. "Coach Griff is working on getting those answered right now. We're debating moving some starters from last year to different positions just to solidify things."
Currently, two returning starters on the Hornets' defense are playing soccer and another baseball.
Of the offense, Calley stated, "I think our screen game looks as good right now as they did at the end of the year last year. That's a positive. We're doing some different things in the run game that I think are going to help us. Our offensive line, a lot of those guys are back and they've done really well."
Experience on the offensive line has been a key to many of the Hornets' most successful seasons and, this year, the tackle Jordan Jones, center Kurt Calley, guards Seth Hoffmans and Jacob Ward have all return with significant experience. Junior-to-be Cameron Davis, the understudy for All-State tackle Ian Shuttleworth, has stepped in nicely on the left side and Calley mentioned Josh Earls and Devon Waite as "guys that can play.
"Our guys are smart," he added. "We're not overly-athletic but we pick up changes in the defensive front and we kind of anticipate what's happening to us. Those guys are smart enough to know when to check out certain things when we're pulling guards or changes in protection. That's a plus."
Giving an overview, Calley said, "They main thing we want to know going into the summer is who our top guys are and our top backups. Those are the guys we've got to get ready to play."
Padwork will resume Thursday with another video session on Friday. The same schedule will be in effect next week with contact on Monday, Tuesday and Thursday with video reviews on Wednesday and Friday.