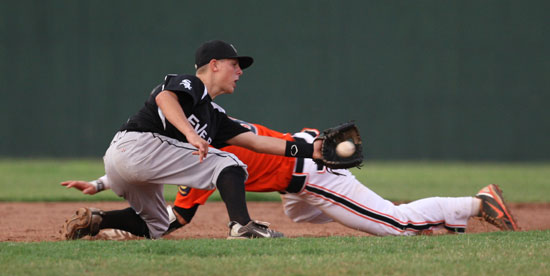 By Rob Patrick
Photos by Rick Nation
The task facing the Everett Black Sox of Bryant got more than twice as difficult Sunday night in their[more] quest for an American Legion AA State championship.
Of course, for a 17-and-under team (actually, one 17 and the rest of the squad 15 and 16 year olds), trying to win a tournament against teams with mostly 18 and 19 year olds, it would appear to be a daunting assignment at any rate.
But this Black Sox team took on the challenge by choice and, to illustrate the regard the team gained through its play this summer, they were designated one of the two top seeds for the tourney.
Sooner or later, however, it figured that they'd run into a team of older players that might take their measure.
As it turned out, Newport Kell Motors got their number Sunday night, snapping a 2-2 tie with a run in the bottom of the sixth then holding the Sox in the top of the seventh for a 3-2 win.
A lot was on the line for the winners bracket semifinal. The winner moved to within two wins of capturing the State crown. The loser dropped into the losers bracket and will need two wins on Saturday after the tournament resumes on Friday, and two wins on Sunday to force an "if" game on Monday for all the marbles.
Newport will take on Pine Bluff National Bank in the winners bracket final on Saturday at 4:30 p.m. Bryant, now 22-6 on the season, will play on Saturday at 2 p.m., against the winner of a Friday night elimination game between Wynne and Stuttgart. With a victory, the Sox would turn around and play again at 7 against the survivor of games involving Lonoke, Hot Springs Village and Hot Springs Lakeside.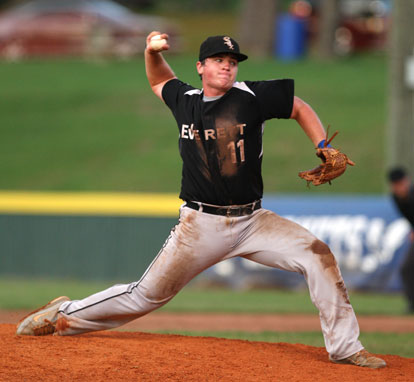 If they get through that, they'll return on Sunday to play the loser of the Pine Bluff-Newport game with the winner, advancing to the championship round.
It was a distressing series of events that went into the tell-tale sixth inning. Bryant right-hander Wes Akers had dueled with Newport lefty Mike Reynolds, a Williams Baptist University signee who starred for Newport High School this spring. Akers had allowed a pair of runs on six hits. The sixth hit was a single up the middle by Grant Black (headed to Arkansas Baptist) to start the bottom of the sixth. Akers got Wil Hubbard to fly out to Chase Tucker in center then, with Matt Duvall (a freshman at Williams Baptist this spring) at the plate, the count went to 2-2 and Akers, obviously in pain, could not continue.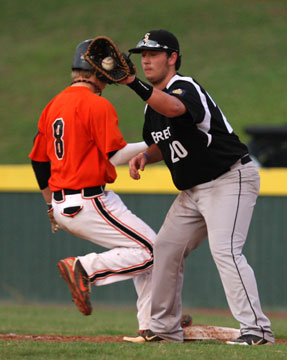 With limited time to warm up (15 pitches is allowed), Tucker took over. His first two pitches were off the mark and Duvall walked. A.J. McCoy worked the count to 3-2 then he walked to load the bases for Gunnar Bullard who pulled a 2-2 pitch into left field for an RBI single.
To his credit, Tucker settled in and struck out Cade Niswonger and Reynolds, who had homered earlier, to end the inning with the bags still full.
In the top of the seventh, Drew Tipton, one of those 15-year-olds, lashed a single up the middle off Reynolds. Trey Breeding placed his second successful sacrifice bunt to get Tipton to second.
When Trevor Ezell flew out to deep right, Tipton tagged and went to third with the potential tying run but Reynolds ended it there with a strikeout.
"I'm disappointed we lost but I'm not disappointed in the effort at all," said Bryant coach Jimmy Parker. "It's no excuse but we're playing against much older competition and our kids really compete with them, battle with them, play hard with them. We had a couple of bad-luck situations. But all that stuff, they're trying. I can live with trying.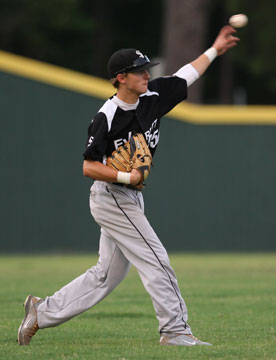 "We did some real good things tonight," he added. "We took advantage of how aggressive (Newport) was and picked them off some bags and they ran themselves out of some innings. Then, in other situations, we couldn't quite do the little things we needed to do to get a runner in scoring position. But that's how baseball works out sometimes. You can execute as well as you want to but, sometimes, it just doesn't work out."
Looking ahead, Parker acknowledged that playing the rest of the tournament next weekend instead of playing it out during the week gives his pitchers a chance to freshen up but, he added, "If we've lost Wes, that's something we're really going to have to battle through. We is far more than a pitcher for us. He's a leader. He's a great teammate and he's a great kid to coach."
He's also one of the team's top hitters with a .459 batting average coming into Sunday's game.
"Hopefully, he'll be all right," Parker concluded.
Akers and Reynolds dueled through two scoreless innings. The Bryant hurler struck out four and got the other two outs on comebackers. In the first, he escaped after Newport "greyhound" Devonte Neal (also a freshman at Williams Baptist this spring) singled and eventually got the third.
In Bryant's first, Ezell singled and, with one out, he was forced at second. A relay to try to complete a doubleplay, went awry, however, and Akers wound up at second. He was unable to move from there.
Reynolds pitched around a lead-off walk to Tipton in the third then, with one out in the bottom of the inning, launched a 2-2 pitch over the wall just inside the left-field foul pole to give his team a 1-0 lead.
The winning continued with a two-out walk to Spencer Shannon, a wild pitch, an infield hit by Grant Black on which first baseman saved the run for the time being with a diving stop to keep the ball on the infield. Akers got a strike away from getting out of the jam but Hubbard singled to make it 2-0.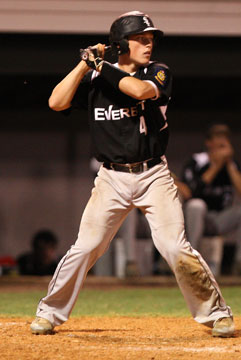 Bryant made a bid to get something going in the top of the fourth when Akers beat out an infield hit and Cody Gogus lashed a single to right that sent his teammate to third. With no one out and runners at the corners, Harrison Dale smacked a laser that might not have hit the ground until it reached the outfield. But somehow Reynolds caught it. He relayed to first for a doubleplay as Akers held at third. A strikeout ended the inning.
The Sox made a nice play to take the starch out of Newport's half of the fourth. A one-out single by Bullard then a stolen base had him in scoring position. But on a grounder to Dale at third, Bullard was caught wandering off the bag. Dale made a nice play and started a rundown with second baseman Korey Thompson eventually making the tag. Cade Niswonger, who had hit the ball, tried to sneak into second on the play but Thompson whipped a throw to Ezell at the bag resulting in an inning-ending doubleplay.
The Sox got on the board amid controversy in the fifth. Thompson led off with a single and, with two down, Ezell lined a base hit to left center. Jason Hastings followed with a bouncer to the first-base side of second base that Niswonger, the Newport shortstop, ranged over to field. But his throw was wild and, with the runners on the move, rolled into the dugout. Thompson and Ezell raced home but then it was ruled that Ezell had to go back to third.
Parker and Bryant manager Jason Thompson protested and the umpires got together to discuss the play. As a result, the ruling was reversed and Ezell was allowed to score.
So it was the turn of Newport coaches Michael Long and Ken Duvall to protest but to no avail. The game was tied and Hastings was at second with the potential go-ahead run.
When Reynolds got the final out, the Newport players were fired up as they came to the dugout but Akers cooled them down. Though Reynolds singled to lead off the bottom of the inning, after he moved up on a bouncer to first by Neal, Akers picked him off second. A grounder to Thompson at second brought the Sox in with designs on taking up where they had left off.
Gogus singled to start the inning but, after Dale's long fly to right was tracked down, Duvall, the Newport catcher, picked Gogus off first for the second out. Tucker reached on an error but was stranded when Bullard hauled down Thompson's liner to second. That set the stage for the game-turning home sixth.