For more photos of this event by Rick Nation, go here
The members of the Bryant Hornets were awarded rings for winning the 2018 Class 7A State football championship Monday night to highlight the annual banquet celebrating the season, held at Geyer Springs Baptist Church.
In addition, team awards were handed out including the Joe Wishard Hornet Warrior Award and scholarship which went to quarterback Ren Hefley, who was ranked 10thacademically in the Class of 2019 at Bryant High and served as Class president.
In addition, the 12thMan Award went to Lynn and Lana Chaffin for their support to the team.
The Hornets' school records were listed, and lettermen were announced.
Mark Knowles, president of the Touchdown Club, served as emcee, along with head coach Buck James.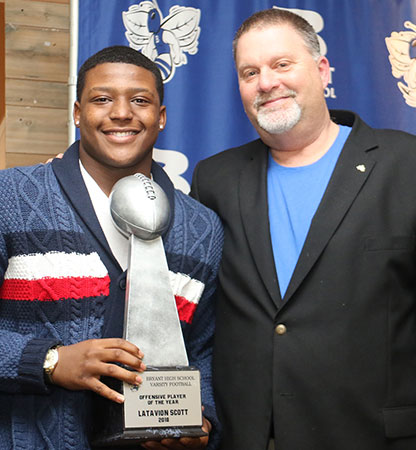 Team captains, above, were honored, seniors Nate Wallace, Kajuan Robinson, Jakob Neel and Blaise Smith.
All-State and all-conference awards were presented, go here.
Team awards:
Unsung Hero: Logan Reed
Mr. Hustle: Ahmad Adams
Offensive Scout Team Player of the Year: Austin Schroeder
Defensive Scout Team Player of the Year: Taylor Martin
Outstanding Special Teams Player of the Year: Tristan Sehika
Offensive Lineman of the Year: Blaise Smith
Defensive Lineman of the Year: Nate Wallace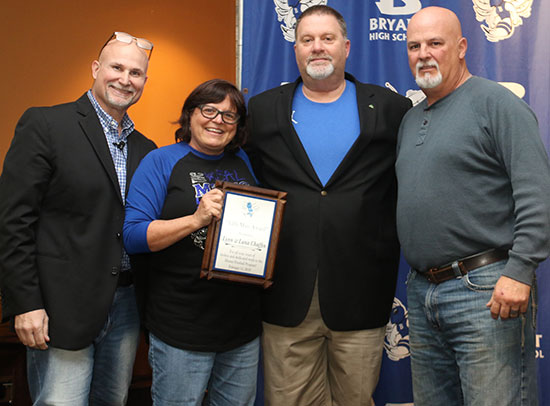 Outstanding Offensive Player of the Year: Latavion Scott
Outstanding Defensive Player of the Year: Kajuan Robinson