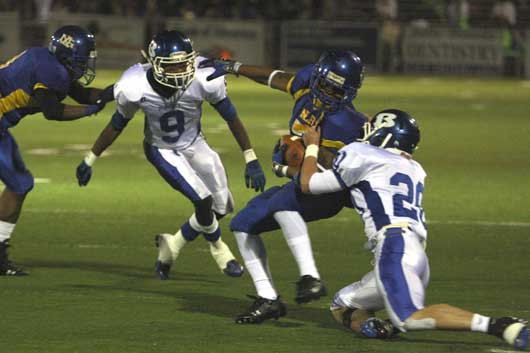 By Rob Patrick
NORTH LITTLE ROCK — Perhaps the sleeping giant is finally waking up.
Since the merging of North Little Rock Northeast and North Little Rock Ole Main back in 1990, it has been one of the largest high schools in the state.
Though the talent has been impressive ever since, for one reason or another, North Little Rock never has become the football power one might expect it to be.
That may finally be changing, however.
This year, the North Little Rock Charging Wildcats are probably the most physically gifted team in the state and if they play to that ability, there's little doubt they could (and should?) win the Class 7A State championship.[more]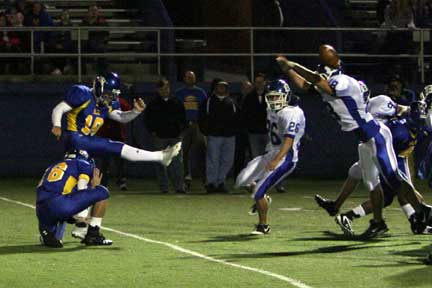 A week after the Bryant Hornets humbled the Cabot Panthers, 35-7, the Cats turned the tables on the Hornets, 29-7, in a disjointed, penalty-racked, chippy, chirpy showdown that left North Little Rock (7-2, 5-1) still tied for first place in the 7A-Central Conference with Russellville and Cabot.
Bryant (7-2, 4-2) fell into fourth place going into their regular-season finale against Little Rock Central on Thursday, Nov. 5. The Hornets will host a first-round playoff game on Friday, Nov. 13.
Though it was lost in the shuffle, Bryant's senior running back Chris Rycraw, despite being limited to 64 yards on 20 carries, set a new school career rushing record with, unofficially, 2,899 yards. The old record, held by Matt White, was 2,866.
Rycraw was not only slowed down by the aggressive North Little Rock defense, but by the Charging Wildcats' production on offense. Falling behind quickly in the third quarter, the Hornets went to the air much more to try to mount a comeback. But quarterback Jimi Easterling, more often than not scrambling to avoid a heavy rush, completed just 10 of 24 passes with two interceptions which doubled his total for the season.
"They're very talented," acknowledged Bryant head coach Paul Calley of the Wildcats. "They dominated both lines of scrimmage and we couldn't run it, we couldn't pass protest and when we did, we couldn't connect.
"Defensively, we got pushed around," he continued. "They're bigger, stronger and faster than we are. That's not our fault."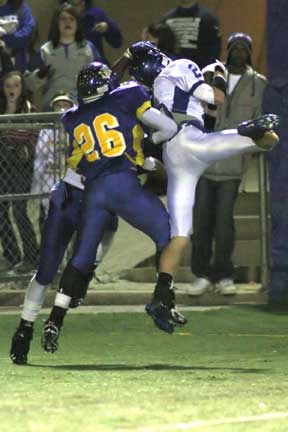 Adding to the aggravation for the Hornets was a whopping 26 penalties between the two teams. And there probably should've been more. It was a game full of late hits, trash talk and, to be certain, some mystery penalties that contributed to a general confusion. There were a lot of conferences among the officials and complaints by the coaches.
Unfortunately for the Hornets 11 of the 14 penalties assessed against them came while the game was still in doubt while eight of the 12 mark-offs against the Charging Wildcats came after the eventual final score was on the board.
Would it have changed the outcome? Probably not.
Did it add to Bryant's frustration? No doubt.
Oh, the stories I could tell if they weren't all off the record. Let's just say, Bryant and some of the officials in the game have a history.
"Everytime something good happened for us, we got a flag and the momentum was broken," Calley observed. "A lot of that's my fault because I knew (North Little Rock's) attitude and the way they try to intimidate other teams during ballgames. I told our guys all week, we're not going to be intimidated. I said, 'Don't be intimidated. We're not going to be classless but we're not going to be intimidated.'
"Well, we weren't intimidated and we were classless," he continued. "That's my fault. I didn't tell them to be that way but I'm the one that told our players to not back down and to fight back. Not necessarily in the way we were fighting back. I meant play-wise, not when you got pushed you push back or when you got hit in the back, you jump up and push.
"And a lot of it was vocal," Calley noted. "A whole bunch of it was vocal, directed towards me too, and it's hard to take. It's hard to sit there and take it. Our guys, we lost our composure and there's no excuse for it. But then there's no excuse for an officiating crew letting that kind of thing go on and letting it get that out of hand. Yes, they threw some flags. They could've thrown a flag on every play. They almost did on us but I mean extra-curricular things that they were doing and saying.
"But that's the way it goes," the coach continued. "You've got to expect that when there's a North Little Rock crew doing a North Little Rock game.
"We got beat. We had chances. We did not capitalize on those chances. Late in the game, we scored two touchdowns and both of them got negated by penalty. So, who's to say if we had scored earlier in the game they would not have been negated by penalty. I really feel like they would've been. So, we're in a no-win situation there.
"But that's not to take anything away from North Little Rock," Calley concluded. "They had a very good scheme against us and some of the things we do, if some people haven't realized, is smoke and mirrors. We just out-flank a lot of people. They adjusted to that tonight, played man coverage and when you do that you can commit more people to stop the run. We didn't have the guys to stop them up front and they just ran through us, both sides."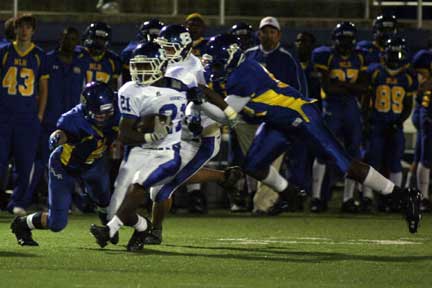 That wasn't as obvious early in the game. Bryant moved the ball on offense and the defense, despite giving up a couple of big plays made that score hold up until they were put under the gun by an offensive mistake.
The Hornets' opening drive reached the North Little Rock 27 when a procedure penalty turned a fourth-and-1 into a fourth-and-6.
It was a call that went against the Hornets three or four times early in the game. The officials ruled that they weren't getting enough players on the line of scrimmage. In the formation that got tagged, tight end Josh Hampton stepped back off the line of scrimmage on one side while wide receiver Brandon Parish stepped up to the line of scrimmage on the other side. Hampton would then start in motion to help lead the blocking for senior running back Chris Rycraw.
But the official on Hampton's side of the field, toward the North Little Rock boundary, apparently didn't see or acknowledge the signal from the official on the opposite side of the field that indicated Parish had adjusted and the flags resulted despite Bryant appeals.
A pass from Easterling to Chris Arnold came up 2 yards short of a first down and North Little Rock took over.
But the Hornets forced a three-and-out. Logan Garland made a nice return of a short punt and, despite another pair of procedure calls, the Hornets dipped into the bag of tricks, rarely used this season, to get the first points on the board.
With Rycraw taking the snap in shotgun formation, he handed off to Arnold who then pitched to Tanner Tolbert on reverse action as Tolbert peeled back from a receiver spot.
Though the pitch came under duress and was fumbled, Tolbert gained possession and fired a pass deep down the right seam. Brandon Parish was well covered but did a great job of out-leaping J.J. Shearins for the ball. After hauling in the pass, Parish dashed into the end zone from 10 yards out for the TD.
Jace Denker's PAT made it 7-0.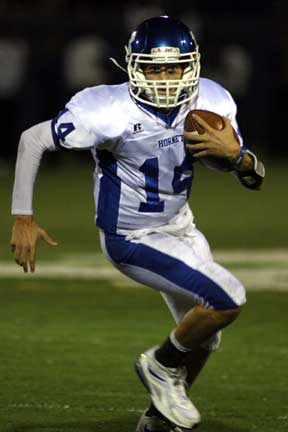 North Little Rock came right back with a drive that was fuled by a pair of 15-yard penalties against the Hornets. (Another was offset by a North Little Rock infraction.)
Running back Tim Johnson (20 carries, 99 yards) broke a 30-yard run along the way and the Wildcats reached the Bryant 9.
But a nice play by Sammill Watson stopped Johnson for no gain on second down and the middle of the Bryant defensive line held him to 2 yards on third. North Little Rock was forced to settle for a field goal only to have Logan Bussard's kick hook left, no good.
The teams traded punts with the field position advantage turning North Little Rock's way. Bryant had the ball at its own 12. Rycraw ripped off a 14 yard run for a first down but, on the next play, Easterling's pass intended for Garland, sailed and Deon Rhodes, trailing the play, picked it off and sprinted down the sideline before Rycraw drove him out at the 3.
Johnson scored on the next play and Bussard tied it with the PAT.
"Momentum is a powerful thing," Calley commented. "We had it early but North Little Rock took it back and kept it."
The Hornets went three-and-out but got a big punt from Tolbert that turned the field over. And when North Little Rock was charged for a personal foul, it pushed the Wildcats back to their own 16.
Two plays later, the Cats faced a third-and-5 at their own 21. Quarterback Issac Kelley dropped back and threw a high arching pass down the right seam that wideout Davonta Rich ran under for a 49-yard play that kept the Wildcats in possession.
They reached the Bryant 24 where, on a fourth-and-1, they turned to 6-foot, 350-pound noseman-turned- fullback De'Arius Howard who just made enough for the first down.
Three plays and a pair of offsettinig penalties later, Johnson skirted right end for an 11-yard touchdown run.
Bussard kicked it to 14-7 with 3:37 left in the half.
North Little Rock was set to receive the second-half kick but, on Denker's short boot, there was confusion about who would field it and it was fumbled. Brady Butler claimed it for the Hornets at the North Little Rock 28.
What looked like a game-turning event for the Hornets turned out to be one for North Little Rock as the Wildcats' defense stuffed four plays and Bryant turned the ball over on downs, coming up empty-handed.
"I was really disappointed," Calley said. "When that (fumble) happened, I said, well there's the break we needed. We're going to take advantage of it. We'll tie it up at 14."
But it was not to be.
"I haven't seen the film but I'm pretty sure we had a guy wide open in the end zone, we just didn't get it to him," he added.
Easterling just couldn't buy the time under the heavy rush.
The Bryant defense made a bid to get the ball right back for the offense. Tolbert knifed through to drop Johnson for a loss on a sweep then Holden Chavis, in at safety for the shaken-up Stanley Oxner, knocked down a pass.
On third down, however, the Wildcats again went for the big play instead of just the first down. Johnson slipped out of the backfield and down the middle of the field and was wide open for Kelley who hit him in stride. The play turned into a 67-yard touchdown that expanded the Wildcats' lead.
A penalty on the extra point attempt gave North Little Rock a chance to go for a two-point conversion and Kelley's pass to Rich made it 22-7.
On the ensuing kickoff, Watson came up to field a high, short kick. He bobbled it but regained control and tried to weave through the oncoming defenders. He was hit at about the 20, however, and driven back a good 5 yards with apparently no whistle marking the end of his forward progress. While the Wildcats were pushing him back, his face mask was grabbed and his neck twisted. The ball was wrenched loose, ruled a fumble and awarded to North Little Rock at the 15.
On a first-down fade pass to Rich, Tolbert did a tremendous job of staying with the speedy receiver as they both went into the right back corner of the end zone. Tolbert had the inside position and a chance for an interception had the ball not been thrown away. But Rich reached around Tolbert in the process despite what appeared to be an uncatchable ball.
A flag was thrown on the play and most figured it would be an offensive-pass interference call since Tolbert had the inside positioning and Rich tried to go through him to catch it.
But, lo and behold, the call went against Tolbert for pass interference.
Given a first-and-goal at the 8, the Wildcats' Michael Tillman scored on a toss sweep.
Bussard kicked it to 29-7 with 9:07 still to play in the third quarter.
Bryant was given a sideline warning on the touchdown play and more confusion ensued. At first, 15 yards were marked off against the Hornets. After some discussion, the ball was moved back to the North Little Rock 45. But the Bryant bench argued that the first sideline warning doesn't result in a mark-off. The officials met again and eventually got the ball back to the 40 for a normal kickoff.
Bryant's ensuing possession, however, featured a pair of sacks and the Hornets punted the Cats back to midfield.
A sack by linebacker Trey Sowell, who along with Butler led the team with 10 tackles, forced a North Little Rock punt.
Bryant, in turn, picked up first downs on a pass from Eastering to Garland then a 12-yard run on a drew by Rycraw. The Hornets reached the Wildcats' 49 but stalled there.
The Wildcats drove to the Bryant 4 and appeared to score but an illegal shift negated the play. Bussard came on to attempt a field goal only to have Hunter Mayall block it.
The teams traded punts before Bryant put together a drive from its own 20 to the North Little Rock 7. The march was aided by a pass interference penalty and a personal foul against the Wildcats but, when Easterling hit Parish for the apparent touchdown from 7 yards out, a major penalty negated the play.
Pushed back to their 22 with a first-and-goal, the Hornets' frustrations continued. Easterling threw an incomplete pass but then both teams were flagged for unsportsmanlike conduct. A procedure penalty moved the Hornets back to the 27 for second-and-goal.
Two incompletions later, Bryant faced a fourth-and-goal at the 27. On fourth down, Easterling's pass was intercepted by Rhodes to end the Hornets' threat.
"Like I told the kids tonight, we lost a battle but are we going to lose the war?" Calley stated. "We've still got the State playoffs to go. You've got to keep fighting. We took our lumps and we just have to go back to work.
"We didn't win a conference championship and that's disappointing but we've got to bounce back and get ready to play a Central team that will be emotional with them sending their coach (Bernie Cox) out after 30-some years, seven State championships and 300 victories. It's the same group that didn't want to go winless during the regular season last year and played us down to the wire."
NORTH LITTLE ROCK 29, BRYANT 7
Score by quarters
BRYANT 7 0 0 0 — 7
North Little Rock 0 14 15 0 — 29
Scoring summary
First quarter
BRYANT — Parish 47 pass from Tolbert (Denker kick), 6:36
Second quarter
NORTH LITTLE ROCK — Johnson 3 run (Bussard kick), 9:51
NORTH LITTLE ROCK — Johnson 11 run (Bussard kick), 3:37
Third quarter
NORTH LITTLE ROCK — Johnson 67 pass from Kelley (Rich pass from Kelley), 9:34
NORTH LITTLE ROCK — Tillman 8 run (Bussard kick), 9:07
Team stats
BRYANT NLR
First downs 11 15
Rushes-yds 26-60 44-162
Passing 11-25-2 5-13-0
Passing yds 116 150
Punts-avg. 5-44.0 4-31.3
Fumbles-lost 3-1 1-1
Penalties-yds 14-99 12-90
INDIVIDUAL STATS
Rushing: BRYANT, Rycraw 20-64, Easterling 6-(-4); NORTH LITTLE ROCK, Johnson 20-99, Tillman 10-42, Rich 2-15, Hudson 2-5, Piggee 2-5, Moore 3-4, Miles 2-3, Kelley 3-(-6).
Passing (C-A-I-Y): BRYANT, Easterling 10-24-2-69, Tolbert 1-1-0-47; NORTH LITTLE ROCK, Kelley 5-13-0-150.
Receiving: BRYANT, Garland 5-46, Parish 4-68, Arnold 1-4, Rycraw 1-(-2); NORTH LITTLE ROCK, Johnson 1-67, Rich 1-49, Airheart 1-14, Brown 1-13, Henderson 1-7.